Network:

ABC

Series Premiere Date:

Feb 27, 2019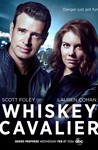 Summary:

After a breakup, FBI agent Will Chase (Scott Foley)--codename is "Whiskey Cavalier"--is teamed up with CIA Francesca "Frankie" Trowbridge (Lauren Cohan)--codename: "Fiery Tribune"--to lead a team of spies as they save the world, deal with relationships, and office politics in this dramedy

After a breakup, FBI agent Will Chase (Scott Foley)--codename is "Whiskey Cavalier"--is teamed up with CIA Francesca "Frankie" Trowbridge (Lauren Cohan)--codename: "Fiery Tribune"--to lead a team of spies as they save the world, deal with relationships, and office politics in this dramedy from Dave Hemingson and Bill Lawrence.

…

Expand

Genre(s):

Comedy

,

Drama
Season 1 premiere date:

Feb 27, 2019

Episode Length:

60
Foley, Cohan and the supporting cast members need not unduly worry whether their adventures are all that plausible. What matters is whether this show is fun to watch regardless. Which it is.

You may detect a strong scent of eau de "Castle." The 12-year-old boy within the adult TV critic finds this in the show quite pleasing. (I did watch every episode of "Castle," to be sure.) I'm happy to overlook whatever is lacking or obvious or oversold or simplistic in its construction for the sake of the adventure, the scenery and the fun gang dynamics.

Whiskey Cavalier has an appealingly daft streak of sophomoric loopiness.

Viewers have seen all these elements before, but in "Whiskey Cavalier" they're deployed in a fun, fast-moving way that the show and the charm of its leads is hard to resist.

In the early episodes Cohan looks capable but not entirely comfortable with the fast-paced comedy. She's surrounded by people who are at home with the show's rhythms, though.

This is a show like they used to make 'em. But it's also one that needs to relax a bit and trust that its leads are as appealing together as the other characters keep telling us that they are.

There's nothing wrong with the casting but there's nothing dynamic about it, either. ... Whiskey Cavalier may use terms like "retinal scans" in its storylines in order to sound like the espionage dialogue is up to date, but make no mistake: you've seen this show a dozen times before.
Writing this after the first episode.

I wouldn't have chosen to watch from the trailers, but my wife recorded it. From the trailer I wasWriting this after the first episode.

I wouldn't have chosen to watch from the trailers, but my wife recorded it. From the trailer I was confident in the female leads ability to play her character well but I had my doubts about the male lead. Well we watched it and I was wrong. I instantly loved the male lead, his character wasn't cliche or swashbuckling as you might expect. His character is a successful and talented agent with a detrimental level of sensitivity that makes for a really fun time. In fact every character in this show was utterly dripping with awesome character. I am really going to enjoy this series.

Oh and the cinematography and editing is really top notch. Most people don't notice those things when they are good but you will know they are good when they hook you in deep within a fully coherent and scripted episode.

…

Expand

I think the show is good, but it could be so much better. I feel they are trying to keep it almost as a family show, when it would be better

I think the show is good, but it could be so much better. I feel they are trying to keep it almost as a family show, when it would be better if it were a bit darker.

…

Expand

Episode 1 was fantastic, just personal opinion. However, Episode 2 lost me when the sniper was mounted on the window instead of mounted from a

Episode 1 was fantastic, just personal opinion. However, Episode 2 lost me when the sniper was mounted on the window instead of mounted from a distance inside the room.

…

Expand

Cool Breeze didn't die, he was murdered.

It isn't the worst, but I can't really say the first couple episodes were good.

Different but the same. I feels like they essentially took a bunch of cliche characters, tossed them in a pot, added some not horrible comedy

Different but the same. I feels like they essentially took a bunch of cliche characters, tossed them in a pot, added some not horrible comedy writers, poured it out and thought a funny spy was worth a shot.

I'm onboard just to see what happens with the idea but it is tough sledding so far. Everything shows promise but the show really feels like a bunch of experiments with blending the characters, quirks and spy stuff that so far, have little cohesion. There is a nugget of promise here but after just three episodes, it has yet to find any footing. What particularly disappointed me in the last episode was Tyler James Williams' character being written even more as a tired old cliche of the fast-talking, often inept black comic relief. A true 'ugh' moment because it is such a predictable, dull and musty concept. A couple more laugh out loud moments was in there this week which I appreciated. Again, there is something buried here that is worth sticking it out for at least a few more episodes to see if they can figure out how to put it on screen. So far, my optimism is shakier but we'll see what happens.

…

Expand

Not into these "save the world in an episode", comedy-heavy shows.

Will watch a few more episodes to see where they go with it.

Remember Castle? It was a great show. Whiskey Cavelier remembers. A goofy but cunning older guy, a shrewd and passionate badass lady-cop and a

Remember Castle? It was a great show. Whiskey Cavelier remembers. A goofy but cunning older guy, a shrewd and passionate badass lady-cop and a whole ton of fun sexual tension kept that show watchable for 8 awesome seasons.

With Whiskey Cavalier I'm tapping out after episode 3. The show has tried to capture the feeing of Castle but with a twist, bad writing and unlikable charachters. The three main leads are fine and have a good chemistry but tack on a socially awkward and inherently unlikable duo of support staff and shoehorn them into every scene formulaically and you have a recipe for disaster. It's like getting spinach sprinkled on your ice cream.

The psycologist charachter has a dour and negative comment in literally every scene she's cast in and the gadget guy feels like the guy who nobody invited to the party but showed up anyway trying to seem cool.

Even were we to overlook these two "turds in the punchbowl" the dialog between the two leads is forced, cheesy and unsubtle.

Overall this show is not fun, its a dour slog. The pilot was okay and the second episode was almost as good, with the third episode I've realized there's not enough here to like to justify my time.

…

Expand