Network:

Cinemax

Series Premiere Date:

Apr 5, 2019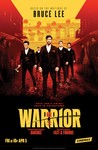 Summary:

Set in the late 1800s, gifted martial artist Ah Sahm (Andrew Koji) immigrates from China to San Francisco and ends up as an enforcer for the one of the Chinatown tongs in this drama created by Jonathan Tropper and inspired by Bruce Lee's original writings.

Genre(s):

Drama

,

Action & Adventure
Season 1 premiere date:

Apr 5, 2019

Episode Length:

60
This is the right time and place for Lee's vision to come to thrilling life, even if he's not around to star in it. Warrior is a blast.

Topmost, Warrior is a good time, satisfying anyone who appreciates intricate fight choreography that emphasizes the physicality of its actors. ... At the same time, the show grants the same level of agency and ferocious, dangerous nature to its women as it does the men.

While it isn't above mandatory Cinemax elements like fights, macho banter, and visits to brothels, it also aspires to make statements about the immigrant experience. And damned if those statements don't turn out to be more arresting than the genre elements, which are proficiently handled but far from unique.

There's a reason the network returned to its action roots after attempting to pivot away from them a few years ago, and if Cinemax continues to produce shows like Warrior, a show that is, first and foremost, entertaining, then I'm really not going to complain too much.

Through its first six episodes, Warrior is frequently fun, occasionally audacious and always representationally interesting, which is enough to work through its slow patches and to excuse that one half of the show is vastly better executed than the other half.

Warrior shares some of the propulsiveness and energy of [Banshee] but lacks its conviction and its sense of place, in part because of the artificiality of the antique San Francisco recreated on elaborate South African sets.

It takes itself way too seriously, the dialogue is deadly flat, and the characters just aren't interesting.
Loved the pilot, fighting scenes good, actors good, plot promising. A bit surprised by some of the dialogues, without going to details... they

Loved the pilot, fighting scenes good, actors good, plot promising. A bit surprised by some of the dialogues, without going to details... they do mind of Cinemax shows. If you like the IP Man series you will for sure like this one too, a lot. Looking forward to next episodes, and saying thanks for an awesome new show! Also Banshee is visually referenced in the first episode :)

…

Expand

Awesome show loved the first episode all i can say is if Bruce Lee and Banshee had a crossover it will look like this