Network:

Netflix

Series Premiere Date:

Feb 15, 2019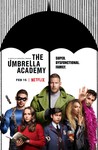 Summary:

Luther (Tom Hopper), Diego (David Castañeda), Allison (Emmy Raver-Lampman), Klaus (Robert Sheehan), Vanya (Ellen Page) and Number Five (Aidan Gallagher) are brought back together by the death of their adoptive father (Colm Feore) in this series based on the comics and graphic novels by My

Luther (Tom Hopper), Diego (David Castañeda), Allison (Emmy Raver-Lampman), Klaus (Robert Sheehan), Vanya (Ellen Page) and Number Five (Aidan Gallagher) are brought back together by the death of their adoptive father (Colm Feore) in this series based on the comics and graphic novels by My Chemical Romance's Gerard Way.

…

Expand

Genre(s):

Drama

,

Action & Adventure

,

Fantasy

,

Suspense

,

Science Fiction
Season 1 premiere date:

Feb 15, 2019

Episode Length:

60
It's frankly difficult to think back to how everything began in this crazy show after having buzzed through its 10 episodes, because it's so full of layered narratives. ... The Umbrella Academy is incredibly interesting, enjoyable, quirky, and well worth your time.

It has flaws and excesses, but the series, whose first season is available on Friday, nonetheless lands in the sweet spot between comedy and drama, and between a plot-and-action-driven narrative and character exploration. ... By the time Mary J. Blige and Cameron Britton (he was serial killer Edmund Kemper on "Mindhunter") show up as time-traveling assassins named Cha-Cha and Hazel, respectively, I was fully onboard, at least for this one season.

Umbrella looks, feels and sounds different [from other comic book TV adaptations]--music does much of the heavy lifting, and effectively so. It's a gorgeous-looking production that evokes another world, with both feet still firmly planted in this one.

It's not that the writing is awful; it just veers a little too wildly between being needlessly vague and frustratingly ham-fisted. ... The Hargreeves family, though, is where the show shines its brightest. ... It's not lacking plot, but in the end it's just far too anxious about doling out answers to focus on the elements that could've made it great.

The Umbrella Academy never delivers on its intrinsic potential. It's just one more half-hearted attempt to capitalize on the genre's popularity.

[The] busy nature initially makes for a slow start, as its pilot embeds us in their grief as means of gloomy exposition, but then it creates the opposite effect by the second and third episodes and onward--the series is both slow moving and overstuffed.

Netflix already has A Series of Unfortunate Events and could have easily titled The Umbrella Academy, its new series, A Series of Pointless Scenes. ... It probably doesn't help that the writing is superficial and the acting suboptimal, or that the whole thing relies on an ostensible quirkiness and viewers' innate sense that they've seen echoes of this many other places.
Production is top notch and great acting(IMHO), very funny too, music is awesome. really is an f-u marvel, we can do good without you. hope

Production is top notch and great acting(IMHO), very funny too, music is awesome. really is an f-u marvel, we can do good without you. hope Netflix bet form more darkhorse ips totally worth it.

…

Expand

Fun and interesting show that shows a lot of interesting ideas and reminds me of 2013's Utopia.

The characters, the cinematography is amazing here so far. The usual slower pace in a Netflix series but it doesn't mean that this is not a

The characters, the cinematography is amazing here so far. The usual slower pace in a Netflix series but it doesn't mean that this is not a good series. The music is amazing in this series, for comicbooksuperhero fans who wants something different than Marvel or DC this is a great thing to watch.

…

Expand

A pretty good show. It's far from perfect, but it definitely has enough enjoy ability to watch if you're a superhero fan. The action is good,

A pretty good show. It's far from perfect, but it definitely has enough enjoy ability to watch if you're a superhero fan. The action is good, I can tell you that as a fact.

…

Expand

This is not one to binge watch but a show you can enjoy coming back to. The production is very much true to Netflix style, which is very

This is not one to binge watch but a show you can enjoy coming back to. The production is very much true to Netflix style, which is very polished and a high budget clearly evident. Netflix seemingly can't make a genuinely interesting comic book/ super hero series as it clearly is engulfed by the money hungry franchise of marvel and DC and Netflix can only pick up the scraps to make a spin-off. However, this show does offer something new and is mostly entertaining. The premise is good, it has a solid concept, some good characters and arcs. The show has flaws which aren't systemic but rather are confined in some plot details, characters and actors. Some characters come off as boring and others just plain annoying. The show is highly repetitive with characters having the same arguments over the same thing and seemingly making amends by saying the same thing. The show is 10 episodes long but I do think a shorter season with certain elements and dialogue left out would make this season a bit less cumbersome. Overall, I appreciate this show and what netflix has managed to do with it and I hope this marks a turning point in what this genre on netflix can be like.

…

Expand

good plot, nice characters (mostly) but

WAY to dragged out.. you could skip 45 minutes per episode and you are still good to follow. alsogood plot, nice characters (mostly) but

WAY to dragged out.. you could skip 45 minutes per episode and you are still good to follow. also every scene with number 7 can be deleted fromt he first two episodes since they dont do anything for the plot in general (dont want to spoil here but of course she is a key person, why else would you hire a well known hollywood actor?) . a small infomation" would have done the trick, ellen paige is absolutely wasted here in this role in the first episodes . narration would have done the trick also.

(+) nice idea, good setting and filming Craftmansship
(-) horrible boring dragged out filler material (aka "Drama" ) between the one or two important or interessting scenes per episode.

hopefully it will get better somewhen.. in season 2

…

Expand

This is a painful show to watch. There is nothing fun about it. The funny moments are all ruined by an immediate and unneeded dark twist.

This is a painful show to watch. There is nothing fun about it. The funny moments are all ruined by an immediate and unneeded dark twist. There are shots that should be art and symmetrical but are instead shot just to the side seemingly just to erk the inner director of photography in you. The set design is immaculate as is the acting. But it is like the producer or director was constantly saying "It needs to be more dark" at the obvious cost of entertainment. People just trying to be good are penalized for it like it is some kind of clever commentary on the darkness of the world but it just kills the entertainment value. The super-powers really have nothing to do with the story. This could easily be changed to a story about a bunch of orphans and one grew up to be a nuclear physicist gone bad because he didn't get to go on the fam camping trip when he was a youngin, but nobody would watch that. This show is a pile of potential that a bad director/producer ruined.

Robert Sheehan is legit the only good thing about this monstrosity. In one sentence, this show is a dark trainwreck played out over 10 long unentertaining hours.

edit: Just realized this was the same writer/producer that ruined Fantastic Four.

And they end it on a cliffhanger, but you know it isn't good enough to get a season 2.

…

Expand