Network:

FOX

Series Premiere Date:

Jan 2, 2019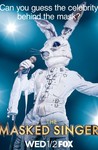 Summary:

Nick Cannon hosts the celebrity singing competition based on the South Korean show of the same name. A judging panel that includes Ken Jeong, Jenny McCarthy, Nicole Scherzinger and Robin Thicke eliminate and guess the identities of the 12 disguised celebrities, who compete against one another.

Genre(s):

Reality

,

Music
Season 1 premiere date:

Jan 2, 2019

Episode Length:

60
The joy of this series lies entirely in the singers, and it really doesn't much matter who they are. ... It's a tightly paced hour in which the main joys are the good and bad voices, the costumes and the reactions of the judges and the in-studio audience.

The Masked Singer is weirder, sillier, and stupider than [other singing reality] shows. It may also be more entertaining than them. It's definitely more inane. ... The Masked Singer's weakness is its judging panel, who are frequently billed as "detectives," and who approach their jobs with all the insight and acumen of an America's Next Top Model contestant trying to decipher the Tyra Mail.

The body horror is agreeable. The singing is real. Some of it is excellent (an unspecified number of competitors are professionally trained); mostly, it is fine. The creatures compete against each other in pairs. ... Cultivating the cutesy creepiness dulls any sense of unease.

It all started as an admirably bizarre reality series that revelled in its unabashed spectacle and lunacy. But it became, somehow, a bit of a bore.

Whether it's a reaction to the curated snobbery of prestige television or simply a new low in reality programming and its worship of B-list talent, The Masked Singer kicks off 2019 with such low expectations that everything else--"CSI" reruns, pharmaceutical ads---looks like sophisticated high art in its wake. ... The show's panelists are the most entertaining aspect of the bizarre spectacle when they shoot high in gradings on the celebrity scale when estimating who's under the rack of antlers or giant insect head.

The show's far more boring than it has any right to be ... So far, the American version is too preoccupied with selling the enormity of the the unmaskings that it doesn't bother to make sure the rest of the show is particularly interesting at all.

A prohibitive favorite for worst new TV show of the year didn't take long to assume that position.
It's a goofy show but the performers do a pretty good job, the costumes all look sweet and everyone seems to be having a good time. Judges are

It's a goofy show but the performers do a pretty good job, the costumes all look sweet and everyone seems to be having a good time. Judges are so so but what can you really expect.

…

Expand

It's kind of nice to have a show that isn't jaded or filled with malice. You have fun costumes and people who get to perform and live out new

It's kind of nice to have a show that isn't jaded or filled with malice. You have fun costumes and people who get to perform and live out new dreams. I think all of these people are people who finally get to do something that was never really available to them (like that football player) or people who have been relegated to the Hollywood heap of former greats and want one more shot at being in the spotlight, It's all in good fun.

…

Expand

The show isn't made to win a lot of awards but you can be guaranteed to be entertained. This show is a transplant/adaptation of the South

The show isn't made to win a lot of awards but you can be guaranteed to be entertained. This show is a transplant/adaptation of the South Korean musical competition from MBC, The King of Mask Singer and it's a breath of fresh air. Given the short development time and secrecy hindering word put out for a more robust panel of contestants we can already see the beginnings of a great show in the making. Here is to hoping for the second season's success.

…

Expand

If you Masked Singer gets rid of Ken Jeong (he over exaggerates his silliness) you might just have a running chance. The other judges seem

If you Masked Singer gets rid of Ken Jeong (he over exaggerates his silliness) you might just have a running chance. The other judges seem sincere to a point but that Jeong fellow is the pits.

…

Expand

Oh my god this show is so boring. It takes them so long to finally reveal who's under the masks and it sucks. Also there's way too many hosts

Oh my god this show is so boring. It takes them so long to finally reveal who's under the masks and it sucks. Also there's way too many hosts and they suck. Robin Thicke seems like just a terrible guy and Jenny mccarthy is the worst. Kim Jeong and Joel Mchale are kind of funny. Oh yeah, and the camera work is kind of weird too, it seems like everybody they show is a plant to make the show seem more exciting. I don't know maybe it will get better, kind of a waste of an hour if you ask me.

…

Expand

This is just the stupidest thing I have ever seen, omg. This tells me that the masses will watch whatever is thrown at them. What's so funny

This is just the stupidest thing I have ever seen, omg. This tells me that the masses will watch whatever is thrown at them. What's so funny about it is that the judges seem to be so into it and of course they would be because they're getting paid monster salaries. Yeah, this is just terrible television and the money could have been better spent elsewhere.

…

Expand

This Is A New Low For The Public What A Dumb Boring Show I Thought All The Dating And Dancing Shows Were Bad Till This Came On Whoever Put

This Is A New Low For The Public What A Dumb Boring Show I Thought All The Dating And Dancing Shows Were Bad Till This Came On Whoever Put This On Tv Should Be Fired To Many Dancing And Dating And Singing Shows On Now A Days

…

Expand