Network:

ABC

Series Premiere Date:

Jan 9, 2019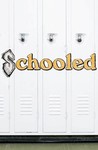 Summary:

The spinoff of The Goldbergs set in the 1990s follows the faculty of William Penn Academy, which includes Principal Glascott (Tim Meadows), new music teacher and WP alum Lainey Lewis (AJ Michalka), Coach Mellor (Bryan Callen) and Charlie "CB" Brown (Brett Dier).

Genre(s):

Comedy
Season 1 premiere date:

Jan 9, 2019

Episode Length:

30
Schooled at its goofiest recognizes the value of teachers.

Rough edges are quickly sanded, and yet the players are good.

As it stands, Schooled doesn't offer any convincing reasons to watch other than the crossovers from an already familiar world, and the requisite '90s references are too lightweight to be a true vehicle for nostalgia.

Schooled contains none of the mother ship's bellows and whistles, thus laying bare its own conventionality.

There's possibly some potential here. But the only episode of Schooled made available for review neither rings the bell--or answers it.

The pilot lacks the snap and vigorous, unruly wit of ABC's most successful recent sitcoms, from "Black-ish" to "Speechless," saddling more than one actor with painfully earnest dialogue about what it means to be a teacher and Michalka with a less-than-credible arc. Her story, indeed, resolves so tidily by pilot's end as to raise the question of where the rest of the show can still go.

[The Goldbergs is] a good show because beneath that very superficial hook it's deeply personal. Schooled, at least thus far, is not, and it's that lack of center that still needs tinkering.
I wish this show was longer - lots of funny characters and layers of things happening. For a 30 minute show we only get maybe 20 minutes.

I wish this show was longer - lots of funny characters and layers of things happening. For a 30 minute show we only get maybe 20 minutes. Can't wait for more shows to see how all of these characters evolve :)

…

Expand

This is a fantastic show and very funny. This is one of my favorite new tv shows of 2018 and one of my favorite tv shows. The writing is

This is a fantastic show and very funny. This is one of my favorite new tv shows of 2018 and one of my favorite tv shows. The writing is great. The cast is terrific especially Aj Michalka, Bryan Callen, Tim Meadows, Brett Dier, Rachel Crow, Lennon Parham, and Christian Gehring.

…

Expand

okay so ive been a fan of the Goldberg's for some time now and i can honestly say that this isnt even close to the humor of the Goldberg's

okay so ive been a fan of the Goldberg's for some time now and i can honestly say that this isnt even close to the humor of the Goldberg's however theres plenty to laugh at and most likely enjoy laney herself is a bright spunky funny soul that everyone should love if they give her half a shot so i guess dont over expect and you might just find yourself suprised like i was

…

Expand

since this is supposed to be related to the Goldberg's i say its pretty low and that hurts to say due to the excitement i had for it i mean it

since this is supposed to be related to the Goldberg's i say its pretty low and that hurts to say due to the excitement i had for it i mean it had its funny moments and its got the heart theres just one thing missing from this its the welcoming feeling you got from the Goldberg's its just all diffrent but not bad

…

Expand

The flagship show "the Goldbergs" has been running on fumes for awhile as the actors age out of the formula and the premises get more and more

The flagship show "the Goldbergs" has been running on fumes for awhile as the actors age out of the formula and the premises get more and more ridiculous. Schooled has similar issues. It's incredibly broad and then goes in for a predicable 'moment'.
I don't see this show somehow improving. I will say it is slightly better than the first attempt at this "The Goldbergs 1990-Something Spinoff" which was abysmal. They basically just plugged Laney into that idea and it's not much better.

…

Expand

I give it a 2 only because Coach Mellor is always great. Otherwise, the show is a snoozefest, right down to the replica Ruben Amaro, Jr. The

I give it a 2 only because Coach Mellor is always great. Otherwise, the show is a snoozefest, right down to the replica Ruben Amaro, Jr. The Goldbergs has outlived it's story. Adam has become even more annoying than Bev (hats off to Wendy for playing an awful Mom so superbly). If it weren't for George Segal (the only reason I started watching in the first place, I wouldn't watch the Goldbergs either.. Both these shows can go.

…

Expand