Network:

Prime Video

Series Premiere Date:

Feb 15, 2019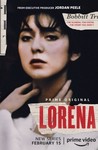 Summary:

The four-part documentary series executive produced by Jordan Peele about the Lorena and John Wayne Bobbitt case was directed by Joshua Rofé and includes discussion of issues such as the 24-hour news cycle, domestic violence and sexual assault.

Genre(s):

Movie/Mini-Series

,

News/Documentary

,

Documentary
Show Type:

Mini-Series

Season 1 premiere date:

Feb 15, 2019
Over the course of four hours, we get to know Lorena as a human being, from her naive Catholic upbringing to her wise middle age. Twenty-five years after her trial, we owe Lorena Gallo an apology. This documentary is a good first step.

First-rate film that succeeds in re-working the story we thought we knew into the story we should have known all along.

The four-part documentary Lorena, however, goes beyond the headlines about the woman who cut off her husband's penis, yielding a thoughtful, comprehensive look at domestic abuse and how the media covers high-profile stories.

It's fascinating. Going in, it might be hard to imagine how four long hours were needed to explore the nuances and implications of the single act that made Lorena Bobbitt famous. But four hours later, it all make sense.

Lorena may not be a perfect work of art, but it's a solid step forward for empathy in media.

The frustration of Lorena is that there are many reasons the story is relevant today and worthy of closer examination and reexamination. Many of them are covered here. It just takes too long to get there.