Network:

The CW

Series Premiere Date:

Apr 4, 2019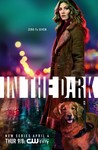 Summary:

Hard-living and blind 20-something Murphy (Perry Mattfeld) is determined to find out what happened to her friend Tyson (Thamela Mpumlwana) after she is dismissed as an unreliable witness by the police.

Genre(s):

Drama
Season 1 premiere date:

Apr 4, 2019

Episode Length:

60
In the Dark is a good show with a lot of promise, and it deserves to be seen and not buried, burned off, or overlooked.

The show's creative team, headed by creator Corinne Kingsbury and including Ben Stiller, so far have put together a show that's surprisingly and bracingly watchable.

Mattfeld delivers a nuanced performance as a woman who has chosen to meet the world with hostility as a calculated defense. No matter how middling the story, she's always worth watching.

In episode two the tone lightens up a good bit – you can see network notes at work – and more typical CW storylines set in, including a romance with a bearded hunk (Casey Deidrick). This makes "In the Dark" more bearable but less unique.

In the Dark, to its detriment, is so determined to mash up several cliches into one series that it has real trouble coming together as its own entity.

The CW's new dramedy In the Dark may have started with the kernel of a good idea, only to get so larded up with embellishments and misguided genre detours that the actual show premiering Thursday is watchable mostly with a sense of incredulity.