Network:

FX

Series Premiere Date:

Apr 9, 2019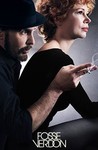 Summary:

The eight-part limited series about the five decade long partnership between choreographer/director Bob Fosse (Sam Rockwell) and Broadway dancer/actress Gwen Verdon (Michelle Williams) was based on the biography Fosse written by Sam Wasson.

Genre(s):

Drama

,

Movie/Mini-Series

,

Music
Show Type:

Mini-Series

Season 1 premiere date:

Apr 9, 2019

Episode Length:

60
Williams conveys Verdon's star quality without letting it obscure her steely survivor's core. In Mad Men terms, the character is Joan (an underestimated single mom), Betty (a betrayed wife rebuilding her life) and Peggy (a woman who's just as talented and driven as any man in her field) in one.

Fosse/Verdon can never quite escape its deteriorating orbit, plunging closer and closer to the black hole that is its central subject, because it knows, deep down, how essential he is to American art. That could have tanked the whole project. And yet ... it doesn't. Because, deep down, this is a fantastic show about a marriage.

Sam Rockwell is excellent as the passionate, manipulative, adulation-seeking Fosse. As Gwen Verdon, Michelle Williams is very nearly perfect. ... The bigger issue, and I'm not sure how much it could've been avoided, is that the "destructive artist and long-suffering helpmeet/muse" trope gets really freaking old.

Fosse/Verdon proves to be a darker, more sorrowful meditation on the personal and professional lives of artists, but the eight-episode series benefits from Broadway tunes and re-created dance numbers from the pair's many successful productions.

The series is certainly competent, one collaboration that changed the face of American theater telling the story of another. But you're looking for more of a Fosse shoulder roll, the extra tap in the time step, the unexpected contortion in the jazz number--the kinds of quirks that made Fosse and Verdon singular and unique. Their relationship was anything but by the book, and you wish this dramatization wasn't afraid to go a little more off-script.

Rockwell and Williams are shoo-ins for Emmy nominations this summer, it's true, but the material they're given here never quite rises to meet their level.

Despite the time jumps, much of Fosse/Verdon feels sluggish and nonessential. Rockwell is fine as Fosse, but Fosse himself is a bore. ... More Verdon, less Fosse please.
Sam Rockwell and Michelle Williams are exceptional in this biographical miniseries about one of the greatest duos to ever influence theatre

Sam Rockwell and Michelle Williams are exceptional in this biographical miniseries about one of the greatest duos to ever influence theatre and film. The story is incredible, and the style is stunning. Truly an incredible show.

…

Expand

Same old woman behind the man thing. The woman is the muse Man the real thing .Little boring. We've seen this **** a 100 times already. Acting

Same old woman behind the man thing. The woman is the muse Man the real thing .Little boring. We've seen this **** a 100 times already. Acting is good tho.....

…

Expand

Feh .What a great big soggy mess.So poorly cast.So poorly directed..Big fat wet mess of nothing.Gwen Verdon as a dowdy hag? Oh please.

Feh .What a great big soggy mess.So poorly cast.So poorly directed..Big fat wet mess of nothing.Gwen Verdon as a dowdy hag? Oh please. Michelle Williams is far too good to waste her time on this drek. And Fosse- was he an **** first or did that come with the territory? Speaking of which? What territory?Didn't look like no genius to me. Nothing breathtaking there at all. It's getting really tired, boys. Mean men who screw and their dowdy women who go along with it.Even the daughter.Oh please-another soggy mess of lousy acting. Big big disappointment. JM

…

Expand