| Reprisal: Season 1 | The Marvelous Mrs. Maisel: Season 3 | Truth Be Told (2019): Season 1 |
| --- | --- | --- |
| | | |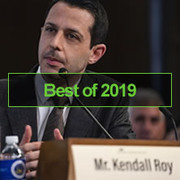 What were critics' favorite television shows of 2019? Find their individual top 10 lists inside, as well as the overall combined standings (updated throughout the month).
1.

BoJack Horseman: Season 6

The sixth and final season finds BoJack in rehab.

2.

A Black Lady Sketch Show: Season 1

Ashley Nicole Black, Quinta Brunson, Gabrielle Dennis, Robin Thede are some of the core cast of this comedy sketch series from Thede.

3.

Back to Life: Season 1

The BBC comedy series written by Daisy Haggard and Laura Solon finds Miri Matteson (Daisy Haggard) returning to her hometown after 18 years in prison and trying to start over again.

4.

Succession: Season 2

The power struggle between Logan Roy's children are not the only issue for WayStar as they face a rival media company run by CEO Rhea Jarrell (Holly Hunter).

5.

Undone: Season 1

The rotoscope animation from Kate Purdy and Raphael Bob-Waksberg follows 28-year-old Alma (Rosa Salazar) as she seeks answers to her father's death after an accident nearly kills her and discovers an ability to travel through time.

6.

Genndy Tartakovsky's Primal: Season 1

The prehistoric animated adventure miniseries from Genndy Tartakovsky follows a caveman as he bonds with a tyrannosaurus rex.

7.

Harley Quinn: Season 1

The animated comedy series follows Harley Quinn (voiced by Kaley Cuoco) after her break up with the Joker as she looks to become the "Queenpin" of Gotham and join the Legion of Doom with the help from Poison Ivy (voiced by Lake Bell).

8.

The Crown: Season 3

A new cast takes over for the third season as The Queen (Olivia Colman) and Prince Phillip (Tobias Menzies) deal with events between 1964 and 1977 including Princess Margaret's (Helena Bonham-Carter) marriage to Tony Armstrong-Jones (Ben Daniels), new Prime Minister Harold Wilson (Jason Watkins) and the introduction of Camilla (Emerald Fennell) to Prince Charles (Josh O'Connor).

9.

Watchmen (2019): Season 1

Set in an alternative 2019, where there is no Internet, Robert Redford is president, and the police wear masks to protect their identities, Tulsa police detective Angela Abar (Regina King) investigates the return of a white supremacist terrorist group inspired by the now-deceased Rorschach in the Damon Lindelof series based on Alan Moore and Dave Gibbons' graphic novel of the same name.

10.

Big Mouth: Season 3

The third season of the animated comedy introduces a new student (Ali Wong), Missy's new Hormone Mistress (Thandie Newton) and Coach Steve gets visited by the Fab Five of Queer Eye.