| Dexter: New Blood: Season 1 | Dickinson: Season 3 | Yellowjackets: Season 1 |
| --- | --- | --- |
| | | |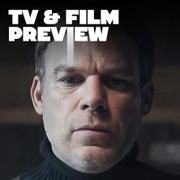 Get details on the top TV shows (and movies to stream at home) coming in November, including the return of Dexter, a live-action take on Cowboy Bebop, two new Marvel shows, and more.
1.

Bo Burnham: Inside

The musical comedy special was filmed by the comedian over the past year by himself, with no crew or audience.

2.

What We Do in the Shadows (2019): Season 3

The third season finds the vampires meeting the first vampire, a Siren, gargoyles and wondering what to do with Guillermo.

3.

Succession: Season 3

Logan looks to firm up his position after Kendall's press conference as the power struggle continues.

4.

Dickinson: Season 3

The Civil War begins in the third and final season of the coming-of-age series that will also introduce Sojourner Truth (Ziwe), Walt Whitman (Billy Eichner), and Sylvia Plath (Chloe Fineman).

5.

Maya And The Three: Season 1

Warrior princess Maya (voiced by Zoe Saldaña) goes on a journey to carry out an ancient prophecy that will help her save the world from gods of the underworld in this animated series created by Jorge Gutierrez.

6.

Curb Your Enthusiasm: Season 11

Larry David's Emmy-winning comedy series returns for its 11th season.

7.

Rick & Morty: Season 5

It's more adventures for Rick and Morty in the fifth season of the animated comedy.

8.

Back to Life: Season 2

Miri's new steps in starting over include a possible job at a supermarket and a growing relationship with neighbor Billy (Adeel Akhtar) in the second season of the British comedy

9.

Muhammad Ali

The four-part Ken Burns documentary about the life and career of the three-time heavyweight boxing champion features archival footage, photographs, and interviews with journalists, boxers, historians, as well as friends and family of Ali.

10.

I Think You Should Leave with Tim Robinson: Season 2

The sketch comedy series returns for a second season.