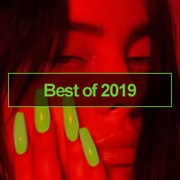 Which music newcomers impressed critics this year? Find out as we rank the top 15 debut albums of 2019.
1.

1999 [Super Deluxe Edition] - Prince

The reissue of the pop artist's fifth studio release was remastered and includes b-sides, alternates mixes, 23 previously unreleased studio tracks recorded between November 1981 and January 1983, a complete live audio performance of the 1999 tour recorded in Detroit, MI on November 30, 1982, and a DVD of his performance at the Houston Summit on December 29, 1982.

2.

Abbey Road [50th Anniversary Deluxe Edition] - The Beatles

The 50th Anniversary release of the Beatles 1969 album features stereo mixes by Giles Martin and Sam Okell and a disc of demos and session outtakes. A super deluxe includes an additional disc of demos and session outtakes, a coffee table book, and a Blu-ray disc of the Dolby Atmos, 5.1 surround and his-res stereo mixes of the album.

3.

Ghosteen - Nick Cave & the Bad Seeds

The 17th full-length studio release for Australian rock band is influenced in part by the accidental death of Nick Cave's 15-year old son in 2015 and is considered the third and final part of trilogy of albums that includes 2013's Push the Sky Away and 2016's Skeleton Tree.

4.

The Band [50th Anniversary Edition] - The Band

The 50th Anniversary reissue of The band's second album includes 13 outtakes, with six never before released and their Woodstock set.

5.

Tunes 2011-2019 - Burial

The two-disc compilation from the electronic producer features songs originally released on EPs between 2011-2019.

6.

No Other [Deluxe Edition] - Gene Clark

The reissue of The Byrds singer-songwriter's 1974 solo release features a remaster mixed by Sid Griffin and producer John Wood with an addition disc of alternate versions of the tracks. A super edition box-set also includes a blu-ray of the film "The Byrd Who Flew Alone: The Making and Remaking of No Other."

7.

The Livelong Day - Lankum

The third full-length release for the Irish folk quartet was produced by John "Spud" Murphy.

8.

Hidden History of the Human Race - Blood Incantation

The second full-length release for the Denver-based death metal band was recorded completely analog by Pete DeBoer.

9.

Dead Man's Pop [Box Set] - The Replacements

The 4CD/1LP box set from the Minneapolis alternative rock band features a new mix by original producer Matt Wallace of its 1989 album Don't Tell a Soul, demos, outtakes, alternative mixes, tracks recorded at Bearsville Studios, and the complete live performance recorded at the University of Wisconsin-Milwaukee on June 2, 1989.

10.

Kiwanuka - Michael Kiwanuka

The third full-length release for the indie singer-songwriter was produced by by Danger Mouse and Inflo.