| Charli | Beneath the Eyrie | The Nothing |
| --- | --- | --- |
| | | |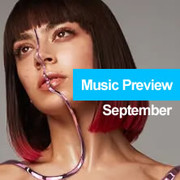 Listen to tracks from the most noteworthy albums coming in September, including new releases from Charli XCX, Kanye West, Sturgill Simpson, Bat for Lashes, the Highwomen, The New Pornographers, and more.
1.

All My Heroes Are Cornballs - JPEGMAFIA

The third full-length studio release for the rapper from Baltimore was self-recorded and features guest appearances from Abdu Ali, Helena Deland and Buzzy Lee.

2.

Jimmy Lee - Raphael Saadiq

The first full-length release of new material from the R&B artist/producer was inspired by his late brother's struggle with drug addiction and features guest appearances from Rob Bacon, Reverend E. Baker, Ernest Turner, and Daniel J. Watts.

3.

Eve - Rapsody

The third full-length studio release for the North Carolina rapper features guest appearances from J. Cole, D'Angelo, GZA, JID, Leikeli47, Mereba], PJ Morton, Queen Latifah, K.Roosevelt, SiR, and Elle Varner.

4.

Apollo: Atmospheres & Soundtracks [Extended Edition] - Brian Eno

The reissue of the soundtrack from Brian Eno, his brother Roger and Daniel Lanois for For All Mankind, a documentary film about the Apollo missions includes a second disc of new instrumental material.

5.

We Are Not Your Kind - Slipknot

The sixth full-length studio release for the metal band was produced by Greg Fidelman.

6.

Caligula - Lingua Ignota

The third full-length release for Rhode Island artist Kristin Hayter was mixed by Seth Manchester features contributions from Mike Berdan, Lee Buford, Ted Byrnes, Noraa Kaplan, Sam McKinlay, and Dylan Walker.

7.

Originals - Prince

The 15-track collection of previously unreleased demos of songs Prince wrote for other artists including "Sex Shooters" for the Apollonia 6, "Manic Monday" for The Bangles, Martika, Kenny Rogers, "The Glamorous Life" for Sheila E., and The Time, as well as "Nothing Compares 2 U," originally sung by The Family but made famous by Sinead O'Connor. The album was exclusively released on 7 Jun 2019 on Tidal with a wide release on 21 Jun 2019.

8.

Fongola - Kokoko!

The debut full-length release for the collective from the Congolese city of Kinshasa was produced by Débruit.

9.

Norman Fucking Rockwell! - Lana Del Rey

The sixth full-length release for the pop singer-songwriter was produced with Jack Antonoff and features contributions from Louis Bell, Zach Dawes, Rick Nowels, and Andrew Watt.

10.

Woodstock: Back to the Garden (50th Anniversary Experience) [Box Set] - Various Artists

The most complete recording of the three-day 1969 music festival is available as a limited 38-disc box set (missing only two Jimi Hendrix tracks and several Sha Na Na songs not recorded), a 10-disc collections that includes at least one track from every performer and a 3-disc collection, all released on the same day.