| Remnant: From the Ashes | Rad | No Man's Sky Beyond |
| --- | --- | --- |
| | | |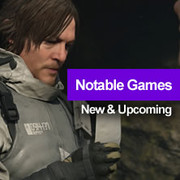 Find release dates, trailers, and scores for major upcoming and recent videogame releases for all platforms, updated weekly.
1.

Final Fantasy XIV: Shadowbringers

Take part in the next saga of FINAL FANTASY® XIV Online with the next legendary expansion pack—SHADOWBRINGERS. New jobs: Gunbreaker and Dancer New races: Viera and Hrothgar Level cap increased: 70 to 80 New cities: The Crystarium and Eulmore Journey through expansive new areas, such as the Rak'tika Greatwood, Amh Araeng, Il Mheg and Lakeland. New trails, including harrowing encounters with Titania and Innocence. New beast tribes: pixies, Nu Mou, and dwarves New 8-player raid: Eden An exciting new series of alliance raids YoRHa:Dark Apocalypse The Restoration of the Holy See of Ishgard - In the aftermath of the Dragonsong War, Disciples of the Hand and Land work together to rebuild Ishgard

2.

Slay the Spire

Slay the Spire is an energetic fusion of card games and roguelikes. Choose your cards wisely. Craft a unique deck, encounter bizarre creatures, discover relics of immense power, and make your way up the ever-changing Spire.

3.

Dragon Quest Builders 2

DRAGON QUEST BUILDERS 2 is a block-building role-playing game with a charming single player campaign and a robust multiplayer building mode that supports up to four players online. Create your customized character, team-up with your fearless friend Malroth, gather the skills required to become a full-fledged builder, and combat the Children of Hargon, a vile cult that worships destruction. Then, take your builder online and join your friends to collaborate and create something truly magnificent. Don't let the name fool you, despite the 2, this is a completely standalone experience featuring new characters, an expansive world, unlimited building combinations, and a storyline that promises to satisfy longtime fans and newcomers alike. [Square Enix]

4.

Wargroove

Take to the battlefield with Wargroove, a strategy game for up to 4 players. Choose your Commander and wage turn-based war on battling factions. Design and share maps, cut-scenes and campaigns with easy-to-use editors and in-depth customization tools.

5.

F1 2019

The official videogame of the 2019 FIA Formula One World Championship, F1 2019 challenges you to Defeat your Rivals in the most ambitious F1 game in Codemasters' history. The game is released a full two months earlier during the Formula 1 myWorld Grosser Preis von Osterreich 2019 weekend and, unlike previous iterations, ahead of the British, German and Hungarian races. F1 2019 features all the official teams, drivers and all 21 circuits from the 2019 season. This year sees the inclusion of F2 with players being able to complete the 2018 season with the likes of George Russell, Lando Norris and Alexander Albon. The 2019 F2 season content will be made available as a free digital update during the season. Having established itself as one of the highest rated racing franchises of all time, F1 2019 builds on the success of previous iterations and delivers an experience that rivals the quality and production values of its real-life race counterpart. With greater emphasis on graphical fidelity, the environments have been significantly enhanced, and the tracks come to life like never before. Night races have been completely overhauled creating vastly improved levels of realism and the upgraded F1 broadcast sound and visuals add further realism to all aspects of the race weekend.

6.

Bloodstained: Ritual of the Night

You are Miriam, an orphan scarred by an alchemist curse which slowly crystallizes your skin. You must battle your way through a demon-filled castle summoned by Gebel, your old friend whose body has become more crystal than flesh. * Exploration: Bloodstained's story unfolds as you explore Gebel's hellish castle; a sprawling structure that features a variety of locations. As you explore the massive castle you'll find warp gates that will allow you to travel quickly without having to backtrack too much. * RPG Elements: It's not an Igavania without leveling, and Bloodstained will be no exception. In addition to the classic elements everyones come to expect, enemies in Bloodstained will drop a wide variety of items, materials, and magi-crystals necessary to create the items that will get you safely through Gebels castle. * Crafting: As you explore, fight enemies, and complete quests you will gain experience and become more powerful, acquiring a variety of weapons along the way. Enemies will also drop materials you can use to craft new weapons and abilities using Miriam's training in alchemy.

7.

Crash Team Racing: Nitro-Fueled

Start your engines with the original game modes, characters, tracks, power-ups, weapons and controls. Power slide to glory in additional karts and tracks from beyond the original game. Race online with friends and Crash the competition with online leader boards.

8.

Gravity Ghost: Deluxe Edition

Surf the night sky. Careen through the cosmos. Find the fox. When a ghost girl's best friend goes missing, she'll turn the whole universe upside down to find him. Gravity Ghost is a planetary platformer where orbiting is an art form. In over 100 dizzying levels, put your aerial skills to the test against planets that bounce, break, splash, and more.

9.

Sairento VR

10.

Songbird Symphony

A heart-warming journey of discovery, as orphaned chick 'Birb' sets off to find his true origins. Follow this cheerful little bouncing bird who revels in singing, and guide him through this magical journey of stunning pixel art and gorgeous animation that shapes itself to your musical interactions.