| Wattam | DOOM Eternal | Dragon Ball Z: Kakarot |
| --- | --- | --- |
| | | |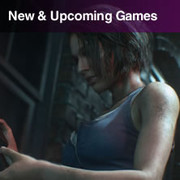 Find release dates, trailers, and scores for major upcoming and recent videogame releases for all platforms, updated weekly.
1.

Sid Meier's Civilization VI

Civilization VI offers new ways to interact with your world, expand your empire across the map, advance your culture, and compete against historys greatest leaders to build a civilization that will stand the test of time.

2.

The Outer Worlds

The Outer Worlds is a new single-player first-person sci-fi RPG from Obsidian Entertainment and Private Division. Lost in transit while on a colonist ship bound for the furthest edge of the galaxy, you awake decades later only to find yourself in the midst of a deep conspiracy threatening to destroy the Halcyon colony. As you explore the furthest reaches of space and encounter various factions, all vying for power, the character you decide to become will determine how this player-driven story unfolds. In the corporate equation for the colony, you are the unplanned variable.

3.

Disgaea 4 Complete+

When the ruling powers of Hades are revealed to be corrupt, Valvatorez must spark a rebellion to bring them down! Armed to the teeth with dynamic, over-the-top gameplay and a horde of special features, this is the ultimate Disgaea.

4.

GRIS

Gris is a hopeful young girl lost in her own world, dealing with a painful experience in her life. Her journey through sorrow is manifested in her dress, which grants new abilities to navigate her faded reality. Gris is a serene and evocative experience, free of danger, frustration, or death. It can be enjoyed by anyone regardless of their spoken language.

5.

Death Stranding

Besieged by death's tide at every turn Sam Bridges must brave a world utterly transformed by the Death Stranding. Carrying the stranded remnants of the future in his hands, Sam embarks on a journey to reunite the shattered world one step at a time. What is the mystery of the Death Stranding? What will Sam discover on the road ahead? A genre defining gameplay experience holds these answers and more.

6.

Life is Strange 2: Episode 5 - Wolves

After a tragic incident, brothers Sean and Daniel Diaz run away from home. Fearing the police, and dealing with Daniel's new telekinetic power, the boys head to Mexico. Each stop on their journey brings new friends and new challenges.

7.

Atelier Dusk Trilogy Deluxe Pack

The DX versions of the titles from the Dusk series are now available as a specially priced 3-game set! Atelier Ayesha: The Alchemist of Dusk DX, Atelier Escha & Logy: Alchemists of the Dusk Sky DX, Atelier Shallie: Alchemists of the Dusk Sea DX.

8.

Call of Duty: Modern Warfare

Prepare to go dark, Modern Warfare® is back! The stakes have never been higher as players take on the role of lethal Tier One operators in a heart-racing saga that will affect the global balance of power. Call of Duty®: Modern Warfare® engulfs fans in an incredibly raw, gritty, provocative narrative that brings unrivaled intensity and shines a light on the changing nature of modern war. Developed by the studio that started it all, Infinity Ward delivers an epic reimagining of the iconic Modern Warfare® series from the ground up. In the visceral and dramatic single-player story campaign, Call of Duty®: Modern Warfare® pushes boundaries and breaks rules the way only Modern Warfare® can. Players will engage in breathtaking covert operations alongside a diverse cast of international special forces throughout iconic European cities and volatile expanses of the Middle East. And the story doesn't end there. In Call of Duty®: Modern Warfare®, players will be thrust into an immersive narrative spanning the entire game. Experience the ultimate online playground with classic multiplayer, or squad-up and play cooperatively in a collection of elite operations accessible to all skill levels.

9.

Untitled Goose Game

It's a lovely day in the village, and you are a horrible goose. Untitled Goose Game is a slapstick-stealth-sandbox, where you are a goose let loose on an unsuspecting village. Make your way around town, from peoples' back gardens to the high street shops to the village green, setting up pranks, stealing hats, honking a lot, and generally ruining everyone's day.

10.

Lonely Mountains: Downhill

Just you and your bike — take it on a thrilling ride down an unspoiled mountain landscape. Make your way through thick forests, narrow trails and wild rivers. Race, jump, slide and try not to crash — all the way from the peak to the valley.