Updated Monday 9/23 with additional reviews of the broadcast
A British invasion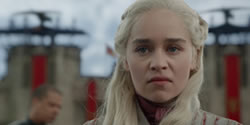 Winners of the 71st Primetime Emmy Awards were announced Sunday night in Los Angeles in a rare host-free ceremony televised live on Fox.
To no one's surprise, the final season of HBO hit Game of Thrones led all shows with 12 Emmy wins this year. But that total includes 10 awards collected last weekend during the two "Creative Arts" ceremonies, which means the show actually fared a bit more poorly on Sunday evening than expected. Nevertheless, Thrones increased its cumulative total to 58 Emmy wins over eight seasons. That's a record for any drama series in history.
But a few Thrones snubs (if that is even the right word) were far from the evening's only surprises. The comedy categories produced more, well, drama than the drama categories did, as HBO's oft-awarded hit Veep failed to connect with Emmy voters in its final season. That cleared the way for Prime Video's critically acclaimed second-season comedy Fleabag to collect four trophies, including for best comedy series, as part of an evening that saw British shows and talent (including Ben Whishaw and Succession writer Jesse Armstrong) repeatedly taking the stage. But even without Veep, HBO managed to lead all networks with 34 Emmy wins this year, ahead of Netflix's 27 and Prime Video's 15. (NBC led all broadcast networks with seven.)
Below, find out what TV critics thought of this year's Emmy telecast, and see which experts and users had the most accurate predictions this year. First, here is a quick recap of the 2019 Emmy Award winners in each of the major categories (including many of the creative arts winners announced in a pair of ceremonies last weekend). If you are curious about the remaining technical categories not listed below (or are just dying to know which ad was named best commercial of the year), find a complete list of winners at the official Emmy website.
Drama Winners - 71st Primetime Emmy Awards


Outstanding Drama Series
Game of Thrones (HBO)
Lead Actor
Billy Porter

Pose (FX)

Lead Actress
Jodie Comer

Killing Eve (BBC America)

Supporting Actor
Peter Dinklage

Game of Thrones (HBO)

Supporting Actress
Julia Garner

Ozark (Netflix)

Guest Actor
Bradley Whitford

The Handmaid's Tale (Hulu)

Guest Actress
Cherry Jones

The Handmaid's Tale (Hulu)

Writing
Jesse Armstrong

Succession, "Nobody Is Ever Missing" (HBO)

Directing
Jason Bateman

Ozark, "Reparations" (Netflix)
While it's hardly a shock to see Game of Thrones collect its record-tying fourth best drama series trophy in its final season, it is certainly a surprise to see the HBO hit win just two of the major drama Emmys in total. (The directing award, in particular, is one that had been expected to go Thrones' way; not a single expert of the over 60 we surveyed predicted Jason Bateman to win.) Another, lesser, surprise is first-time nominee Jodie Comer's win in the lead actress category. That trophy had been predicted to go to her Killing Eve co-star, Sandra Oh. On the other hand, Billy Porter's win in the lead actor category was definitely predicted, but it still counts as a surprise in the larger scheme: He's now the first openly gay actor so awarded. Also making history was Peter Dinklage, who now holds the record for most supporting actor Emmy wins (with four).
Note that the wins for The Handmaid's Tale were for 2018's season 2 rather than the recently aired third season. (A portion of season 2 was eligible for—and won—Emmys last year, but the final three episodes, which aired after the Emmy cutoff date, were eligible for inclusion this year. Don't blame us; we don't make the rules.)
Comedy Winners - 71st Primetime Emmy Awards
Outstanding Comedy Series
Fleabag (Prime Video)
Lead Actor
Bill Hader

Barry (HBO)

Lead Actress
Phoebe Waller-Bridge

Fleabag (Prime Video)

Supporting Actor
Tony Shalhoub

The Marvelous Mrs. Maisel (Prime Video)

Supporting Actress
Alex Borstein

The Marvelous Mrs. Maisel (Prime Video)

Guest Actor
Luke Kirby

The Marvelous Mrs. Maisel (Prime Video)

Guest Actress
Jane Lynch

The Marvelous Mrs. Maisel (Prime Video)

Writing
Phoebe Waller-Bridge

Fleabag, "Episode 1" (Prime Video)

Directing
Harry Bradbeer

Fleabag, "Episode 1" (Prime Video)
While Phoebe Waller-Bridge was predicted to win the comedy writing category for the second season of her Prime Video series Fleabag, her best actress win was perhaps the night's biggest surprise. It marks the first time in Veep's history that Julia Louis-Dreyfus did not win the award (and prevents her from setting an all-time Emmy acting record with nine wins). The win for Fleabag itself as best comedy series was also a major upset; experts had been roughly split on two other shows, Veep and The Marvelous Mrs. Maisel. The other acting wins went pretty much as expected, though Fleabag's other victory—for directing—was yet another surprise. Note that Fleabag didn't even receive a single nomination for its first season several years ago, making its domination here even more surprising.
Movie/Miniseries Winners - 71st Primetime Emmy Awards
Outstanding Limited Series
Chernobyl (HBO)
Outstanding Made for Television Movie
Black Mirror: Bandersnatch (Netflix)
Lead Actor
Jharrel Jerome

When They See Us (Netflix)

Lead Actress
Michelle Williams

Fosse/Verdon (FX)

Supporting Actor
Ben Whishaw

A Very English Scandal (Prime Video)

Supporting Actress
Patricia Arquette

The Act (Hulu)

Writing
Craig Mazin

Chernobyl (HBO)

Directing
Johan Renck

Chernobyl (HBO)
Netflix's When They See Us was the predicted winner among two-thirds of experts, but ultimately lost to the experts' second-favorite choice, Chernobyl. And the movie category is also a bit of an upset; HBO's Deadwood was the predicted winner there. But the experts did correctly forecast three of the four acting categories, missing out only on supporting actress, where Sharp Objects star Patricia Clarkson had been the favorite.
Variety Winners - 71st Primetime Emmy Awards
Variety Sketch Series
Saturday Night Live (NBC)
Variety Talk Series
Last Week Tonight With John Oliver (HBO)
Writing for a Variety Series
Last Week Tonight With John Oliver (HBO)
Directing for a Variety Series
Don Roy King

Saturday Night Live, "Host: Adam Sandler" (NBC)

Variety Special - Pre-Recorded
Carpool Karaoke: When Corden Met McCartney Live From Liverpool (CBS)
Variety Special - Live
Live in Front of a Studio Audience: Norman Lear's 'All in the Family' and 'The Jeffersons' (ABC)
Writing for a Variety Special
Hannah Gadsby

Hannah Gadsby: Nanette (Netflix)

Directing for a Variety Special
Thom Zimny

Springsteen on Broadway (Netflix)
The variety special win for the 97-year-old Norman Lear (one of the show's executive producers) made him the oldest Emmy winner in history, besting the record set by 93-year-old Our Planet narrator David Attenborough all of 30 minutes earlier.
Short Format Winners - 71st Primetime Emmy Awards
Short Form Series (Comedy or Drama)
State of the Union (Sundance)
Short Form Series (Variety)
Carpool Karaoke: The Series (Apple Music)
Short Form Series (Reality/Nonfiction)
Creating Saturday Night Live (NBC.com)
Short Form Animation Program
Love, Death & Robots, "The Witness" (Netflix)
Actor in a Short-Format Program
Chris O'Dowd

State of the Union (Sundance)

Actress in a Short-Format Program
Rosamund Pike

State of the Union (Sundance)
Additional Winners - 71st Primetime Emmy Awards
Competition
RuPaul's Drag Race (VH1)
Reality Program - Structured
Queer Eye (Netflix)
Reality Program - Unstructured
United Shades Of America With W. Kamau Bell (CNN)
Reality Host
RuPaul

RuPaul's Drag Race (VH1)

Animated Program
The Simpsons, "Mad About the Toy" (Fox)
Character Voice-Over Performance
Seth MacFarlane

Family Guy, "Con Heiress" (Fox)

Children's Program

When You Wish Upon a Pickle: A Sesame Street Special (HBO)
Documentary/Nonfiction Series
Our Planet (Netflix)
Documentary/Nonfiction Film
RBG (CNN) –and– The Sentence (HBO)
Documentary/Nonfiction Special
Leaving Neverland (HBO)
Informational Series or Special
Anthony Bourdain Parts Unknown (CNN)
Interactive Program
NASA And SpaceX: The Interactive Demo-1 Launch (YouTube)
How accurate were the predictions?
Though this year's main Emmy telecast was expanded to 27 categories, we tasked our users with predicting the winners in just 26 categories (all but made-for-television movie, which was a late switch from the Creative Arts ceremony to the main broadcast). So, for purposes of comparison, we also analyzed expert predictions in those same 26 categories. (For what it's worth, they got the 27th category wrong.)
As a group, the experts were correct in 17 of the 26 categories, good for a success rate of 65%. (Last year, by contrast, the experts had a 54% accuracy rate.) Deadline Hollywood's Pete Hammond had the most success, correctly predicting the winners in 20 of the 26 categories (for 77%). Vulture's Jen Chaney was right behind him with 19 correct picks. At the opposite end of the spectrum were Entertainment Weekly's Lynette Rice and Gold Derby's Mary Murphy, who each managed to get just 6 of their 26 picks correct.
As a group, our users correctly predicted just 12 of the 26 categories, good for a 46% success rate. (That's actually an improvement compared to a year ago, when they correctly guessed just 42% of the winners.) Out of the nearly 1,800 individual submissions, the most accurate predictions belonged to Armando Leon, who correctly forecast 19 of the 26 categories. Two other users finished with 18 correct picks, including Brennon Musso and one anonymous user.
How was the telecast?
It may have produced some genuine surprises, but was this year's telecast a success? And, in particular, how did critics respond to the Emmys' new host-free format? Below, you'll find a sampling of reviews of this year's broadcast (in no particular order); click on any publication name to read the full review.
Caroline Framke
Variety
As Fox proved over three shaggy, haphazard hours, skipping out on a host doesn't automatically make for a sleeker broadcast. In fact, not having a host or some kind of anchor for the proceedings puts more pressure on everything else to provide some kind of throughline and maintain the energy for the room and beyond. Instead, what ended up onscreen was a wildly confusing mess of conflicting ideas.
Ben Travers
IndieWire
Though plenty of surprise wins helped keep things interesting for die-hard Emmy fans, this year's show didn't feature enough personality, uniformity, or orchestrated highlights — you know, the things a host typically provides. [Grade: B–]
Kelly Lawler
USA Today
But whereas the Oscars leaned into the quick pacing and low-key nature of a hostless show, the Emmys keep trying to replace a host with extended presenter bits, an off-key musical number with Adam Devine (while Lin-Manuel Miranda watched from the sidelines), and narrator Thomas Lennon making pointless, tone-deaf jokes while winners took the stage. You know what could have added a little humor to the night in a slightly more streamlined way? A host!
Mike Hale
The New York Times
They latched onto the idea of going without a host, which worked well for the Oscars this year, but they weren't completely sure about it, so they opened with a labored sketch about the lack of a host. ... Other tweaks to the broadcast were more straightforwardly unsuccessful, like the continually mystifying musical choices (are orchestras officially dead?) and Thomas Lennon's strained and unfunny voice-over commentary, which had the virtue of being hard to hear. And while we're probably lucky to be living in the post-production number era of Emmy telecasts, it would have been nice to see some more energy and invention put into the few "special" moments the show offered, like the tacky-looking in memoriam segment and the ruinously uninspired musical tribute to variety formats.
Dominic Patten
Deadline
In an age of tired and ratings declining awards shows, the Emmys needed to slay on Fox tonight. Instead, like the Wall that protected the icy northern border of what was once the Seven Kingdoms on Game Of Thrones, the whole thing came tumbling down.
Hank Stuever
The Washington Post
Whereas the most recent Academy Awards seemed to function well enough without a host, the producers of Fox's telecast decided to make a running gag of it from the get-go and throughout the night, dragging Homer Simpson, Anthony Anderson and Bryan Cranston into a sad opening bit about pinch-hitting and the glories of television and so on. It was the start of a sluggish and somewhat messy evening of odd segues and handoffs.
Kristen Baldwin
Entertainment Weekly
The 71st Annual Primetime Emmy Awards were a dicey and unpredictable affair — not only due to the many upsets, but because when it comes to awards show glamour, Fox is a little bit like the outcast cousin who doesn't know which fork to use at dinner. [Grade: B–]
Sonia Saraiya
Vanity Fair
The telecast on Fox, Sunday night, felt a bit uncontrolled, a passionless effort to gin up enthusiasm for a program no one could be convinced to host. ... The show seemed unable to decide on a tone, a mood, or even a function. ... If you came to the Emmys looking for good TV, you left disappointed. The editors often couldn't even cut together the introduction to a category without stomping over the nominees' comic timing or dramatic pauses.
Alan Sepinwall
Rolling Stone
The host-free telecast itself was so clumsy and inert, even as it featured so many delightful and unexpected winners. A ceremony that had room for both Kendall Jenner and legendary sitcom producer Norman Lear covered a wide range of genres, tones, and levels of quality, with the surprise victors often rescuing the night from the many bad production choices and the more prominently weak repeat winners. ... The show even screwed up basic things like getting the audience to clap on cue, as various introductions were derailed by applause coming in the wrong moment, or not coming in the right one.
Kevin Fallon
The Daily Beast
As a telecast meant to represent the finest the medium has to offer, Sunday night's Emmy Awards could not have failed harder. It was almost shocking, really, the extreme dissonance between the quality of the shows, creatives, and performers rewarded—Fleabag! Billy Porter! Jodie Comer!—and the award show that was produced to celebrate them. ... Fox produced one of the most phoned-in awards ceremonies I can remember watching in years.
Gregory Ellwood
Awards Campaign/The Playlist
It's helpful to take a step back and realize it could have been a much worse production. Especially after the opening bit with an animated Homer Simpson and a stressed-out Anthony Anderson could have easily been discarded. Luckily, Bryan Cranston got things back on track, but it often felt like an Emmy telecast that couldn't get out of the way of itself. Throw in a gigantic digital background that felt smaller than it should have in the Microsoft Theater and, from a production standpoint, the show seemed, for lack of a better description, half-assed.
David Sims
The Atlantic
Last night's Emmys should be a crucial lesson for awards shows going forward, especially with the Oscars race beginning this fall. Live television events such as these work only if they're memorable; people don't tune in just to see which group of millionaires got the golden statues and remembered to thank their agent this year. Proper hosts have a much better chance of generating well-crafted, enduring moments. Lin-Manuel Miranda taking the stage to present a trophy and reading the dictionary definition of the word variety isn't one of them.
Judy Berman
Time
So many elements of the ceremony radiated apathy or derision toward TV in general. ... From where I was sitting, the 2019 Emmys simply came off as bitter and shady.
What do you think?
Were you happy with this year's Emmy winners? What did you think of the broadcast, and of Che/Jost as hosts? Let us know in the comments section below.