The spotlight shines on The Revenant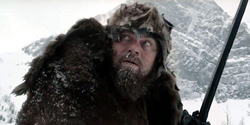 The Academy of Motion Picture Arts and Sciences announced its nominees for the 88th Academy Awards early Thursday morning, recognizing the best films, filmmakers, and on- and off-screen talent of 2015.
Leading the way with 12 nominations was the bleak revenge western The Revenant, the latest from Alejandro G. Iñárritu and his first film since last year's best picture winner Birdman. Close behind that was George Miller's Mad Max: Fury Road, with 10 nominations. Spotlight, the film that has been dominating the best picture race on the awards circuit so far, finished in a three-way tie with 6 nominations.
Listed below are the 2016 Academy Award nominees in all 24 categories.
Best picture and director
Best picture
Metascore / Film / Producers
The Big Short

Brad Pitt, Dede Gardner and Jeremy Kleiner

Bridge of Spies

Steven Spielberg, Marc Platt and Kristie Macosko Krieger

Brooklyn

Finola Dwyer and Amanda Posey

Mad Max: Fury Road

Doug Mitchell and George Miller

The Martian

Simon Kinberg, Ridley Scott, Michael Schaefer and Mark Huffam

The Revenant

Arnon Milchan, Steve Golin, Alejandro G. Iñárritu , Mary Parent and Keith Redmon

Room

Ed Guiney

Spotlight

Michael Sugar, Steve Golin, Nicole Rocklin and Blye Pagon Faust
No, Star Wars didn't sneak in to the field of eight (the same number as last year). Nor did once-mooted possibilities Sicario, Inside Out, Steve Jobs, Creed, or Straight Outta Compton (whose sole nomination came for screenplay) crack the field. But the most glaring omission here is probably Carol, 2015's best-reviewed movie and one that had been performing fairly well on the awards circuit until now. As is usually the case, the Academy also found no room for comedies (unless, of course, you count Golden Globe comedy winner The Martian). Note that Steven Spielberg now has more best picture nominations (nine) than any other producer in history.
Director
Potential nominees who failed to make the list include Ridley Scott (The Martian), Todd Haynes (not surprising, since Carol failed to score a best picture nomination), and, to a lesser extent, Steven Spielberg (whose Bridge of Spies did get nominated).
Writing
Original screenplay
The screenplay nomination for Straight Outta Compton is the biggest surprise here, and it probably comes at the expense of Quentin Tarantino, whose The Hateful Eight script had been getting a lot of attention on the awards circuit. Comedy fans were also hoping that Amy Schumer would sneak in for her Trainwreck screenplay, but a nomination failed to materialize. Note that if Inside Out somehow wins the Oscar, it will be the first animated film to win a screenplay trophy in nine tries.
Adapted screenplay
None of the nominees could be deemed surprises, but there were six strong contenders in the field, and that means someone failed to make the final cut. That someone is Aaron Sorkin and his Steve Jobs screenplay. His omission means that whoever takes home the trophy will be a first-time Oscar winner.
Acting
Lead actress
Nominee
Film
Career Oscar Totals
Noms.
Wins
Cate Blanchett
Carol
7
2
Brie Larson
Room
1
0
Jennifer Lawrence
Joy
4
1
Charlotte Rampling
45 Years
1
0
Saoirse Ronan
Brooklyn
2
0
Jennifer Lawrence, whose film (and in some cases, performance) didn't please a number of critics, is as close as this field gets to a surprise, though given the Academy's well-documented love of the actress (it's her third nomination in four years, and she's now the youngest four-time nominee in history), it's not exactly a stunner. Her inclusion probably comes at the expense of Mad Max: Fury Road star Charlize Theron. The other four nominees match up with awards handed out elsewhere over the past month, with first-time Brie Larson the most frequent winner on the circuit.
Lead actor
The five nominees here match up precisely with the five who have been named most often on the awards circuit to date. That means no nomination this year for rising star Michael B. Jordan (Creed).
Supporting actress
Rachel McAdams counts as a bit of a surprise, as her name has not come up all that often in the season's other awards. Who missed out? Kristen Stewart, for one: her Clouds of Sils Maria performance has been earning the actress numerous trophies elsewhere. The other "snub" is Alicia Vikander, for her performance in Ex Machina. Vikander, though, did receive a supporting actress nomination for her other showcase role this year, in The Danish Girl.
Supporting actor
It was a race with almost too many potential contenders to mention, which means that more than a few deserving performances were left out. Among the more notable omissions are Paul Dano (Love & Mercy), Michael Shannon (99 Homes), Benicio Del Toro (Sicario), Idris Elba (Beasts of No Nation), and youngster Jacob Tremblay (Room). Sylvester Stallone is easily the sentimental favorite in the field of five nominees. His only previous acting nomination came in 1976 for the same role, in Rocky (a film for which he also received a screenplay nomination). He thus becomes just the sixth person in Oscar history to receive multiple nominations for playing the same character.
Other best film nominations
Animated feature
Inside Out is the overwhelming favorite to win, though it's a mild surprise to see that Pixar's other 2015 film, The Good Dinosaur, failed to connect with Academy voters. Scoring a nomination in its place was When Marnie Was There, the Studio Ghibli release that has been all but forgotten elsewhere on the awards circuit.
Documentary feature
What films were left out? Of the 15 documentaries that were included on the Oscar shortlist but failed to make the final field of five nominees, the most notable titles include Michael Moore's Where to Invade Next, the William F. Buckley Jr./Gore Vidal chronicle Best of Enemies, and Alex Gibney's Going Clear: Scientology and the Prison of Belief.
Foreign-language feature
Neither Colombia nor Jordan have previously had a film nominated for an Oscar. Holocaust drama Son of Saul, from first-time filmmaker László Nemes, is the favorite here thanks to its strong performance with critics and on the awards circuit.
Short subjects
Animated Short
Bear Story
Gabriel Osorio and Pato Escala
Prologue
Richard Williams and Imogen Sutton
Sanjay's Super Team
Sanjay Patel and Nicole
We Can't Live Without Cosmos
Konstantin Bronzit
World of Tomorrow
Don Hertzfeldt
Documentary Short
Body Team 12
David Darg and Bryn Mooser
Chau, beyond the Lines
Courtney Marsh and Jerry Franck
Claude Lanzmann: Spectres of the Shoah
Adam Benzine
A Girl in the River: The Price of Forgiveness
Sharmeen Obaid - Chinoy
Last Day of Freedom
Dee Hibbert - Jones and Nomi Talisman
Live-Action Short
Ave Maria
Basil Khalil and Eric Dupont
Day One
Henry Hughes
Everything Will Be Okay (Alles Wird Gut
Patrick Vollrath
Shok
Jamie Donoughue
Stutterer
Benjamin Cleary and Serena Armitage
Music
Original score
Original song
Song/Composer
Performer
Film
"Earned It"
by Abel Tesfaye, Ahmad Balshe, Jason Daheala Quenneville and Stephan Moccio
The Weeknd
Fifty Shades of Grey
"Manta Ray"
by J. Ralph, Antony Hegarty
J. Ralph and Antony Hegarty
Racing Extinction
"Simple Song #3"
by David Lang
David Lang
Youth
"Til It Happens To You"
by Diane Warren and Lady Gaga
Lady Gaga
The Hunting Ground
"Writing's on the Wall"
by Jimmy Napes and Sam Smith
Sam Smith
Spectre
Technical categories
Cinematography
Film Editing
Costumes/Makeup
Sound
Visuals
More Oscar coverage to come
Chris Rock will host the Oscars for the second time when the 88th Annual Academy Awards ceremony airs live on ABC on Sunday, February 28, 2016 at 7:00p ET / 4:00p PT. Look for additional Oscars coverage on this site over the next month, including a chance for you to predict this year's winners as well as a roundup of Oscar predictions from dozens of critics and industry experts. You can also check out our 2015-16 Film Awards Scorecard for a compilation of this season's movie awards from 54 different organizations.
What's your take?
What do you think of the Academy's picks this year? Let us know in the comments section below.