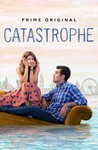 Summary:

The fourth and final season of the comedy find Rob dealing with AA meetings as Sharon begins a new hobby.

Genre(s):

Comedy
Season 4 premiere date:

Mar 15, 2019

Episode Length:

25
Exceptional British dramedy. ... Delaney and Horgan give their deepest and most moving performances yet in the series finale.

The last six episodes of Catastrophe are not unlike the 18 that came before--often brilliant, relentlessly hilarious and searing in the process, depicting one of TV's best and most unexpected pairings of two actors (also the creators and writers, of course), who somehow making their coupling, as unromantic as it was, believable, with every episode over the course of the series run giving off an authenticity that allowed viewers to think, "Yeah, I can see how this works for them, even when it's not working." A nice trick, that.

They are as they are, and their merciless candor will be missed.

By the series finale -- which is aptly strange, beautiful, and ambiguous -- it just feels unfair that we have to let go of something so special.

Raunchy, glorious. ... Catastrophe, it is clear, refers not to a single occurrence but to a state of being--the chaos of life, which this comedy depicts with deadly honest charm. ... With less than three hours to play out, the emotional turns can feel abrupt and the resolutions sudden. But it also finds the greatest emotional depths of the series in a story line that acknowledges the real-life death of Carrie Fisher, who played Rob's mother.

Between the many, many jokes, Horgan and Delaney built an unshakable bond between their characters. Rob and Sharon's relationship, for all its heartache and flaws, is enough. That's the honest truth, and it's felt through to the end.

The fourth and final season of Catastrophe may not be its best ... but it's the most affecting, thanks to the cumulative weight the series has built up.
Enjoyed tremendously the humor, sometimes a bit off color, but very real. Relaxing and fun.

effortlessly funny, as always, more please
effortlessly funny, as always, more please

effortlessly funny, as always, more please

Under the layers, if any, it follows another regulatory pattern of happenings but, for the most, prioritizes its subjects, humor, and our

Under the layers, if any, it follows another regulatory pattern of happenings but, for the most, prioritizes its subjects, humor, and our attraction towards this married couple as an added bonus.

…

Expand

I liked this for the first few episodes of season 1, but quickly tired of it. Two words, Sharon Horgan. She's not funny. She's mean-spirited

I liked this for the first few episodes of season 1, but quickly tired of it. Two words, Sharon Horgan. She's not funny. She's mean-spirited and shrill, and pretty much abusive to her husband. A kid is not a reason to get married (I have three, but it's not why I got married, but it apparently contributed to the divorce according to my POS ex...sorry. Had to vent). Rob Delaney is great and I appreciate his character and humor. He's definitely an every man and all four of my stars go to him. His character would be much better off dumping the mom and just paying support. Better yet, put that kid up for adoption before she infects it with whatever disease makes you that ****

…

Expand