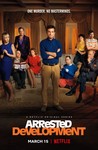 Summary:

The second half of the fifth season of the comedy series finds members of the Bluth family on trial and in trouble financially.

Genre(s):

Comedy
Season 5.5 premiere date:

Mar 15, 2019

Episode Length:

30
Please enter your birth date to watch this video:
You are not allowed to view this material at this time.
In true Bluth fashion, what you think you know about the Bluths you don't know at all.

Arrested Development's one-liners and inward-looking allusions fly by at the speed of light, and at this point, the show has long since given up trying to accommodate new viewers. It's a comedy whose main frame of reference is itself, and while that likely limits its appeal outside its cadre of hardcore fans, its latest go-round reconfirms that, though many sturdy imitators have followed in its wake, it still sits upon the absurdist throne.

Where they end up is solid enough — and there are bursts of fun to be had along the way — but the momentum isn't there. For long stretches, the plot is abandoned in favor of random excursions and functional gags.

Offer[s] fleeting warmth in seeing the gang back together before simply wishing it would be allowed to meet a natural end.

This release marks a low point for the once-great series, recycling gags, reheating limp characters, swirling complicated narrative strands without the old snappy grace.
Season 5 part 2 finally delivers all the answers to the questions and mysteries set up in season 4. Arrested Development has changed and

Season 5 part 2 finally delivers all the answers to the questions and mysteries set up in season 4. Arrested Development has changed and evolved over the years, but it's still as good as anything on TV today.

…

Expand

Ever since season four dropped almost seven years ago, I've been one of its few proponents. It's pretty much universally agreed upon that the

Ever since season four dropped almost seven years ago, I've been one of its few proponents. It's pretty much universally agreed upon that the first three seasons were genius, they equally smart as they were hilarious, densely packed with jokes, and I don't think even the best of circumstances could ever recapture the magic of those first three seasons. Still though, while season 4 wasn't anywhere near as hilarious as the original three seasons (there were some absolutely golden moments, but it wasn't as consistent), I still found it to be just as smart and dense as it was before. Season 5, on the other hand, I don't exactly know what's going on, nor how to review it.

I know it's too much to ask season five to be anywhere near as good as the first three seasons. That's just too much to ask of anything. But at the very least, I wanted it to be as smart as season 4, even if it would never be as funny as it used to be. Part of the problem is how slickly produced everything is, now. The original, messier, docu-style format made for the perfect opportunity to slip tons and tons of visual puns and running jokes into the backgrounds of every frame, which is what made repeated viewings of the first three seasons, and even the fourth season so rewarding, to go back through and see everything going on in the background, whereas the slick production value behind season five just gives everything in each frame a lot more "presence," making it easier to notice when there isn't much going on, and the majority of the time it just seems like there isn't much going on.

Additionally, the scripts are just not dense enough. And again, I know it's impossible to ask any sitcom to contain the comic density of the first three seasons, but it's just impossible not to be disappointed by the sheer lack of jokes. The puns, the play on words, the running jokes, the elaborate setups for future jokes, are curiously absent. I mean, sure, sometimes we'll hear a little jingle or sound effect that was used for a joke in a previous season, or there will be allusions to other old jokes (for example, there's a pretty funny bit in this season calling back to the "there's always money in the banana stand" joke from season one), but I never got the sense that anything new was being set up or that any previous setups were being sufficiently paid off.

All in all, none of this season feels particularly "inspired." The cast and the writers had already moved on over a decade ago, and I'm not convinced anything is going to recapture the inspiration that started this series. I get the sense that the only reason season five exists, is to tie up the loose plot ends, but that's not something I needed. I'm okay with leaving untied plot ends if I'm forced to sacrifice the series' comic integrity to get closure on the things that are completely unrelated to what made the show great in the first place.

Right now, it seems like the series is in the exact spot that George-Michael is currently in, like it's just ambling about, pretending it knows what it's doing, thinking it's simply just going to figure out what it's doing along the way.

…

Expand

Season 5 part 1 started stronger than season 4 however in part 2 all the ground work fails as it returns to terrible pacing, horrible jokes

Season 5 part 1 started stronger than season 4 however in part 2 all the ground work fails as it returns to terrible pacing, horrible jokes and obviously badly dubbed lines. Please let the series end.

…

Expand

Season 1-3 remain one of the strongest, funniest shows of all time. All hype was set when netflix revived... Then the format had to change due

Season 1-3 remain one of the strongest, funniest shows of all time. All hype was set when netflix revived... Then the format had to change due to actors not being able to work simultaneously... Bringing us the mediocre season 4... Funny moments, but without the characters able to play off each other, the sharp wit and strengths were lacking.

In Comes season 5... The first half, while not as good as the original run, bright a much stronger start to season 5, almost a return to form.

Then comes the mess that is 5.5... Admittedly i have not yet seen the final episode yet...however the writers completely lost touch with what was great about the show and traded it in a focus on a convoluted plot nobody cares about, reminders of Jokes that were great in the first run, the unfunny "young cast" scenes that are a boring and unnecessary lead up to a plot twist... All in all a disappointing end to a once iconic show.

I will forever hold seasons 1-3 in the highest regard. Perhaps if they were renewed, we'd have had a season 4 and 5 that lived up to those impossibly high standards. While the netflix years aren't without its funny moments, they sure make me long for those original years where every line was sharp and witty, and every character felt genuine

…

Expand

If u like season 4 and 5. Then there's a good chance you will like this. That said, I re-watch season 1 to 3 all the time. Great show. This is

If u like season 4 and 5. Then there's a good chance you will like this. That said, I re-watch season 1 to 3 all the time. Great show. This is cringe-worthy. It just doesn't work on so many levels. It feels like something is missing There's no magic or spark. The story-line are just farces at this point. And we've seen it all before. Did I laugh out lot here and there? I'd say maybe once per episode. Watch it if u just need to be a completionist. Otherwise, it's sadly not worth it.

…

Expand

The show started to go downhill (for me) with the MRF - Mentally Retarded Female - arc in season 3...

Season 4 and 5 have been recyclingThe show started to go downhill (for me) with the MRF - Mentally Retarded Female - arc in season 3...

Season 4 and 5 have been recycling jokes like crazy. There's another MRF in town, for example: the Mexican Romney Family. Now instead of Cinco de Cuatro, we have 4th of July celebrations on the 2nd of July... Buster keeps getting new prosthetic hands. Maeby is a young woman pretending to be an old woman now, rather than a girl pretending to be a young woman.

They've squeezed everything they can out of the first two seasons. Lucille Austero used to be funny. But now she's been mentioned so many times, it feels unnatural. Same goes for Stan Sitwell... I don't want to see, or hear about, these characters any more. At least they had the good sense, in Season 3, to get rid of Theron's MRF.

It is obvious the show has run out of ideas.

Running Wilde (another show by the same creator with David Cross and Will Arnett) is way better than the second - or first - half of Arrested Development Season 5... It's not a great show, by any stretch of the imagination, but it's watchable.

The show has become pretty homophobic. Maybe it's always been a bit homophobic. Tobias has been a laughing stock throughout the entire show. All gay side characters are stereotypes. Now, Gob is another gay character they can make fun of.

Gob is basically unrecognisable now. He's a bright orange gay, fat idiot. He's still one of the better characters on the show, but that's not saying much.

I'm tired of George and Oscar Bluth. Oscar used to have a dramatically different personality than George. Now, neither of them have much personality. The actors who play George and Lucille have lost their comedic chemistry. There is tension on the set and it shows.

Lindsay has pretty much disappeared. Portia de Rossi apparently has enough good sense to abandon the sinking ship that is Arrested Development.

There are hardly any jokes now. Most of the screen time in season five is spent creating increasingly elaborate plots that lead nowhere. It feels like there's more set ups for jokes than there is punchlines... and the few jokes that actually exist aren't funny.

The whole Rebel Alley arc sucks and, for some insane reason, they've been doing it for two seasons now. George-Michael's Fake Book arc sucks; another example of a bad joke stretched across two seasons.

I chuckle maybe once per episode.

This is bad television. The sixth season of Brooklyn Nine Nine is better. The seventeenth season of Family guy is better... Mitchell Hurwitz is a one-hit wonder.

…

Expand