Network:

Starz

Series Premiere Date:

Apr 30, 2017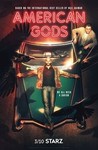 Summary:

The second season of the fantasy drama sees the introduction of New Media (Kahyun Kim).

Genre(s):

Drama

,

Fantasy
Season 2 premiere date:

Mar 10, 2019

Episode Length:

60
Please enter your birth date to watch this video:
You are not allowed to view this material at this time.
For fans of the novel who had such high expectations at the outset and who've been waiting nearly two years for the next chapter in the story, it's rather upsetting.

Some performances stand out, like Pablo Schreiber's tough-talking, soft-hearted leprechaun and Laura Browning's impatient, slowly dying zombie — while others don't quite elevate above the ordinary.

[Season one] could be obtuse or even incoherent. Season 2 commits a greater sin: It punishingly expository, and boring.

Gaiman's a hell of a writer. Even with Anderson and Chenoweth gone, this is still a striking and deep ensemble. But the whole thing is hollow and dull. Fuller and Green's vision of American Gods was far from perfect throughout, but it could be stunning in isolated moments or episodes, where the new season offers very little to believe in.

The overall effect is that of an imperfect series with a powerful, instantly recognizable aesthetic and personality being remade so as to remove the aesthetic and personality while leaving most of the problem spots.

Without a concrete reason to care about Shadow, we're essentially out of reasons to care about a show that once had so much wacked-out promise.

Without the visual panache of the first season to balance the occasionally thin material, it becomes hard to ignore that the characters are more words than people, vehicles for expository monologues that stand in for actual conflict.
Just watched episode one and damn, it was so good, not sure what the critics were watching, or did it just go over there heads and they did

Just watched episode one and damn, it was so good, not sure what the critics were watching, or did it just go over there heads and they did not understand it, great story telling and amazing characters.

…

Expand

American Gods took a long hiatus while they retooled it and they brought in the author of the book, Neil Gaiman, to do so. Only the first

American Gods took a long hiatus while they retooled it and they brought in the author of the book, Neil Gaiman, to do so. Only the first episode of Season 2 is out, and it was co-written by Neil Gaiman. The war between the old Gods (led by Odin) and the New gods (Media and Mr. World, with Facebook as his henchman) is shaping up nicely. Watching season 1 is highly advisable so you understand why a giant leprechaun, a zombie, and Odin are riding in a car with Shadow Moon.

…

Expand

I don't know what is the reviewers problem with the show but i just saw the first episode of the second season and it was great

My 7 is cautiously optimistic. The first season was great and I went out and bought the book. So far it's been very faithful. The look of the

My 7 is cautiously optimistic. The first season was great and I went out and bought the book. So far it's been very faithful. The look of the show never ceases to impress, though this first episode of Season 2 (long overdue) dragged a bit. It looked amazing, but I struggled to stay invested. I hope it gets better, but in all honesty, the book didn't for me.

…

Expand

This is more of a critique to Metacritic than anything else, but I really don`t think they should aggregate the scores from critics when they

This is more of a critique to Metacritic than anything else, but I really don`t think they should aggregate the scores from critics when they have only watched 3 episodes, that's quite deceiving. Anyway, I've only watched the premiere, and I honestly can't understand why the critics found this to be so slow, pacing was like as It shouid be (which is not fast). It honestly sounds like critics are mad their darling isn't working on the show anymore.

…

Expand