| Far Cry 6 | Forza Horizon 5 | Marvel's Guardians of the Galaxy |
| --- | --- | --- |
| | | |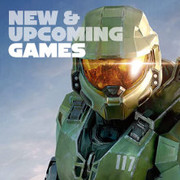 Find release dates, trailers, and scores for major upcoming and recent videogame releases for all platforms, updated weekly.
1.

Forza Horizon 5

Your Ultimate Horizon Adventure awaits! Explore the vibrant and ever-evolving open world landscapes of Mexico with limitless, fun driving action in hundreds of the world's greatest cars.

2.

Disco Elysium: The Final Cut

Disco Elysium - The Final Cut is the definitive edition of the smash-hit RPG. Pursue your political dreams in new quests, meet and question more of the city's locals, and explore a whole extra area. Full voice-acting, controller support, and expanded language options also included. Get even more out of this award-winning open world. You're a detective with a unique skill system at your disposal and a whole city block to carve your path across. Interrogate unforgettable characters, crack murders, or take bribes. Become a hero or an absolute disaster of a human being.

3.

Tales of Arise

Challenge the Fate That Binds You On the planet Dahna, reverence has always been given to Rena, the planet in the sky, as a land of the righteous and divine. Stories handed down for generations became truth and masked reality for the people of Dahna. For 300 years, Rena has ruled over Dahna, pillaging the planet of its resources and stripping people of their dignity and freedom. Our tale begins with two people, born on different worlds, each looking to change their fate and create a new future. Featuring a new cast of characters, updated combat, and classic Tales of gameplay mechanics, experience the next chapter in the world-famous Tale of series, Tales of Arise. The Next Chapter Experience the next chapter in the Tales of series, brought to life in stunning HD powered by Unreal Engine 4 Dynamic Action Dynamic Action RPG featuring an updated battle system that retains classic Tales of gameplay A New Tale Awaits Rich story featuring a vibrant world and new cast of characters Stunning Visuals High quality animation created by Ufotable

4.

Life is Strange: True Colors

A bold new era of the award-winning Life is Strange begins, with an all-new playable lead character and a thrilling mystery to solve! Alex Chen has long suppressed her 'curse': the supernatural ability to experience, absorb and manipulate the strong emotions of others, which she sees as blazing, colored auras. When her brother dies in a so-called accident, Alex must embrace her volatile power to find the truth and uncover the dark secrets buried by a small town.

5.

Tails Of Iron

Set in a grim land plagued by war, Tails of Iron is a hand-drawn RPG Adventure with punishingly brutal combat. As Redgi, heir to the Rat Throne, you must restore your broken Kingdom by banishing the merciless Frog Clan and their ferocious leader, Greenwart. As you explore the deceivingly charming world, you'll encounter a cast of unique companions, ready to aid you in your adventure. And you'll need all the help you can get, whether that's new meal recipes, blueprints to forge deadly weapons and armour, or even a land-chugging, armour-plated mole mobile! Overcome your fears. Rescue your brothers. Restore Your Kingdom. Your tail has begun. Master Brutal Combat: From frog zombies to gargantuan grubs - and everything in-between - the Kingdom is awash with danger. To overcome each perilous encounter, you'll need to study your opponent's attacks and react accordingly! Thankfully, there's a range of deadly abilities at your disposal, including parry bashes and fatal executions, not to mention ranged attacks with your nifty bow and arrow. Explore a Treacherous Kingdom: Fully accompanied by the deep, raspy narrations of Doug Cockle (voice of Geralt of Rivia from The Witcher), prepare to embark on an epic adventure across the mediaeval-fantasy Rat Kingdom. Complete side quests and faction hunts for some additional gold-on-the-side, or join forces with a sharp-eyed companion to help even the playing field. Customise your Attack: Adapt Redgi's combat style to the task at hand. Heavy armour may provide better protection but can you really afford to slow down your dodge-roll? And then there's the question of weapon; axes pack a punch, while spears are quick and nimble. Perhaps you'd prefer the all-round performance of a trusty broadsword?

6.

Hell Let Loose

You've never played World War 2 the way it was meant to be played... with lumbering tanks dominating the battlefield, crucial supply chains fuelling the frontlines, being a cog in the machine of colossal combined arms warfare. Hell Let Loose puts you in the chaos of war, complete with deep player-controlled vehicles, a dynamically evolving front line, and crucial unit-focused gameplay that commands the tide of battle. Featuring sweeping maps modelled on real reconnaissance images and satellite data, the entire battlefield is divided up into large capture sectors -- allowing for emergent and constantly unique gameplay that pits two forces of fifty players in a fight to the death across fields, bridges, forests and towns on an ever-evolving front line. When a sector is captured, it will generate one of three resources for your team, creating a complex meta-game that will influence your team's march to victory.

7.

Marvel's Guardians of the Galaxy

Fire up Star-Lord's jet boots for a wild ride across the cosmos in this third-person action-adventure game, a fresh take on Marvel's Guardians of the Galaxy. With the unpredictable Guardians at your side, blast your way from one explosive situation to another, with original and iconic Marvel characters caught in a struggle for the fate of the universe. You got this. Probably.

8.

A Juggler's Tale

A Juggler's Tale is a cinematic puzzle-platformer. Play as Abby, the marionette, and make your way through a medieval fairy tale world to find freedom. Use the puppet's strings in unique puzzles, find your way around obstacles, and evade the relentless cut-throats that are hot on your heels – while the puppet master holds the strings firmly in his hands. "Ladies and Gentlemen! Come in, come in! In the mood for a story, are we?" Abby is an artiste held captive at a circus: She spends her days entertaining the audience and her nights in a cage, longing for freedom. One day, she escapes the circus and gets to explore a mystical world. Alas, freedom comes at a cost and Abby soon finds herself dragged into the dangers this world has to offer: In a war-torn, medieval fairy tale, surrounded by ravaged, starving citizens and hunted by the relentless cut-throat Tonda, Abby has to cross raging rivers, make it through bandit camps and around traps. Her adventure is always accompanied by the lyrical rhymes of puppet master Jack, who tells her story while holding the strings of his puppets firmly in his ever-helpful hands. Who can Abby trust? Can she find a way to truly break free? Despite dangling from her threads, will Abby learn that she can still influence her destiny? "Abby, Abby... Don't you see, the threads holding you up – also hold you back."

9.

The Artful Escape

The Artful Escape of Francis Vendetti is a video game about great expectations, famous folk singers, lingering shadows, space Gods, hallucinogens, individuality, reptile shops, and wild imaginations. It's an action, adventure, exploration, narrative driven, musical-laser-light-battle kind of game.

10.

Tormented Souls

Survival Horror inspired by the original Resident Evil and Alone in the Dark series. With a fresh twist on the fixed perspective adventure, Tormented Souls modernises for a new generation - as Caroline Walker investigates the mysterious disappearance of twin girls in a terrifying mansion.