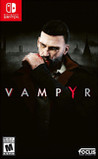 Summary:

Set in early 20th century Britain during a bout of the lethal Spanish flu, the streets of London are crippled by disease, violence and fear. In a completely disorganized and ghostly city, those who are either fools, desperate, or unlucky enough to walk the streets lay prey to Britains most

Set in early 20th century Britain during a bout of the lethal Spanish flu, the streets of London are crippled by disease, violence and fear. In a completely disorganized and ghostly city, those who are either fools, desperate, or unlucky enough to walk the streets lay prey to Britains most elusive predators: the Vampires.

Emerging from the chaos, a tormented figure awakes; as the player it is you who determines how to harness your new powers, by specializing in deadly, versatile RPG skill-trees that change the way you play. As a doctor recently turned into a Vampire, you try to understand your new affliction. Your quest of intuition, discoveries and struggles, will be filled with death and drama, while your attempt to stem the irrepressible thirst that constantly drives you to take human lives.

As you cling to what remains of your humanity, your decisions will ultimately shape the fate of your hero while searching for answers in the coughing, foggy aftermath of the Spanish Flu.

FEATURES:

* Explore a darkly atmospheric early 20th century London.

* Play a tormented and powerful Vampire learning the rules of your new condition. A man of science, a beast of the night: Your toughest battles will be within yourself.

* Build your own combat style through a wide range of crafted weapons and powerful Vampire abilities to defeat a large and unique bestiary.

* Choose your fate: moral choices will shape your story. How human could a Vampire be, when he must feed?

…

Expand
Developer:

DONTNOD Entertainment

Genre(s):

Role-Playing

,

Action RPG

# of players:

No Online Multiplayer

Cheats:

On GameFAQs

Rating:

M
This port of Vampyr is the perfect way to investigate yours sins wherever you are. Great job for a great videogame.

Overall, Vampyr is an ambitious game made with a lot of love. Given how easy it is to become immersed in its world, I was able to forgive some of the more glaring flaws with its repetitive action-RPG combat. It's not typical for a developer to give the player such power over a game's world and characters, after all. This affords the game an immense amount of replayability that can also let you reshape your characterization of Reid. If you're looking for something different this Halloween season, Vampyr is one of the most impressive horror games on the Nintendo Switch. If you're sold on the concept, this game definitely deserves your attention.

Vampyr is a solid action RPG with a nice combat system, interesting characters and great atmosphere. The Nintendo Switch version, however, is not the best one to enjoy this kind of experience.

Like many games ported to Switch, Vampyr is perfectly adequate on the format, but nothing more. If you don't own a PS4, Xbox One or a PC up to the task and have been itching to play the game, by all means pick it up; you'll get a lot of enjoyment out of it. The Switch version is the weakest available though, and since Vampyr has such a wonderfully haunting atmosphere, the downgrades and performance issues do detract from it somewhat. Vampyr is still a good game on Switch, but it's not the best way to play it.

Dontnod Entertainment offers us an interesting title that has good ideas and atmosphere, but is blurred in the fog of London due to its performance issues and its simple and repetitive combat system. However, its interesting story makes it enjoyable, so it is highly recommended for any vampire fan.

Vampyr is a brilliant take on the vampire fantasy, focusing more on drama, relationships and inner conflicts than on sucking blood. The temptation at its core can lead to frustration, as the challenging boss fights feel designed to urge you towards killing more innocent NPCs. Anyone attempting a no-kill playthrough may struggle unless they're willing to invest the time, but if you're enjoying the story and characters, it's time well spent.

Don't buy this port until the performance issues are addressed. I can't recommend it as it currently exists to fans of the game, or those with only a Switch in the house: I can't recommend this port to anyone. Skip Vampyr for the Switch; there are better ways to play a bloodsucker out there.
I went through this game twice upon its initial release on pc and absolutely loved it ! Saber interactive have worked miracles porting this to

I went through this game twice upon its initial release on pc and absolutely loved it ! Saber interactive have worked miracles porting this to the switch , there are of course visual cut backs but the game retains its visual identity and is an absolute gem .

…

Expand

it looks and plays great on the switch. having played the ps4 version,not much is missed here.

Good port from the same phenomenal company that ported (S)Witcher 3 to the Switch. Pretty good AA atmospheric game with a lot of branching

Good port from the same phenomenal company that ported (S)Witcher 3 to the Switch. Pretty good AA atmospheric game with a lot of branching paths and great RPG elements. The graphics are a downgrade of course like (S)Witcher 3 but look fine on handheld. Framerate is surprisingly relatively smooth and consistent compared to the console releases. The only complaints I have are the inability to reverse the A/B button (you were able to do this in (S)Witcher 3) and the game will pause sometimes in the middle of gameplay to load for a couple seconds with a brief loading screen. This was at seemingly random times and a bit annoying. Not an issue for me, but some people might find it hard to read the text on handheld, especially switch lite. There's an option to increase subtitle font size but no menu/notes/books/HUD etc.. Hopefully these things can be patched if enough people have issues with them. Finally, at release this game is kind of expensive ($50 at release) since it has been out on other systems for a year now ($14 on sale on PS store). But that's just nintendo tax and also probably the cost of porting it. Luckily switch games have a solid resale value and don't depreciate a lot.

…

Expand

Fix the combat and you've got a very good game here. Otherwise, Vampyr is a tedious slog through some amazing environments, coupled with

Fix the combat and you've got a very good game here. Otherwise, Vampyr is a tedious slog through some amazing environments, coupled with poorly realized button-mashing and wayfinding that borders on cruelty. The Switch version holds up well, but the source material wasn't strong enough to warrant a port in the first place.

…

Expand

Vampyr is an ambitious attempt at boring the player into submission.

Gameplay: 2 Graphics: 5 Audio: 3 Fun Factor: 2 It's worth purchasing inVampyr is an ambitious attempt at boring the player into submission.

Gameplay: 2
Graphics: 5
Audio: 3
Fun Factor: 2

It's worth purchasing in the bargain bin.

…

Expand

Vampyr is a hard game to criticise. It is ambitious and inventive. It oozes charm and builds a fascinating world. However, it is also very

Vampyr is a hard game to criticise. It is ambitious and inventive. It oozes charm and builds a fascinating world. However, it is also very flawed. The rpg elements are decent, but nowhere near as good as the best RPGs. The combat is souls-like, but nowhere near as good as Souls. The story is decent, but the protagonist is full and interesting, not to mention that so much of it is told through let gthy exposition dumps.

It's hard to pinpoint a failing in vampyr but very easy to feel underwhelmed and under satisfied.

I really wanted to enjoy this game but far too often it is impossible to do so. I think it is worth giving it a go, bit I don't think it will be remembered fondly.

…

Expand