Publisher:

Nintendo

Release Date:

Dec 7, 2018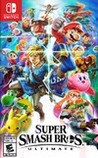 Summary:

Inklings from the Splatoon series, as well as returning Smash characters like Mario and Link will be making appearances in this classic Nintendo franchise's Switch debut. Faster combat, new items, new attacks, new defensive options, and more will keep the battle raging whether you're at home

Inklings from the Splatoon series, as well as returning Smash characters like Mario and Link will be making appearances in this classic Nintendo franchise's Switch debut. Faster combat, new items, new attacks, new defensive options, and more will keep the battle raging whether you're at home or on the go.

…

Expand
Developer:

Nintendo, HAL Labs, Bandai Namco Games, Sora Ltd.

Genre(s):

Action

,

Fighting

,

2D

# of players:

Up to 8

Cheats:

On GameFAQs

Rating:

E10+
Please enter your birth date to watch this video:
You are not allowed to view this material at this time.
Super Smash Bros. Ultimate - Fighting A Rathalos From Monster Hunter Gameplay
Perfecting the mechanics the franchise established way back in 1999, Super Smash Bros. Ultimate is a crazy, chaotic joy. With a gargantuan roster of fighters, an amazing adventure mode and more unlockables than would ever have seemed possible, this is a game that packs one heck of a punch.

Super Smash Bros. Ultimate is ultimate in every sense of the word. World of Light is fantastic, Challenge Mode is satisfying and there's so much love and detail in absolutely everything in the game... Whilst having 60+ characters and 100+ stages sounds overwhelming, it's the perfect celebration of everything Nintendo and will be hard to top going forward.

The sum of Super Smash Bros. Ultimate's parts is nothing short of excellent. From single-player to local multiplayer, there are very few flaws with the experience. Whether you're hoarding spirits in World of Light, spiking your friends in a versus match of Smashdown, or running through Classic mode with your favorite fighter, there is no shortage of smart, creative action to be had. That said, in a game so well assembled, its lackluster online portion stands out even more starkly. However, when taking Super Smash Bros. Ultimate as a whole, that one blight does little to diminish the overall mastery on display. This is not a game Nintendo Switch owners should be caught without.

The fact that the actual gameplay still remains so accessible, balanced and still deep, is a special feat. For skeptics, the Smash series has a reputation as a chaotic party game. However, Ultimate underlines once again that complexity and straightforward fun need not be mutually exclusive.

The definitive Super Smash Bros. game, Ultimate is not only a pure and unadulterated joy, but also a fantastic fighting game stuffed to the gills with characters and other content. A little smasher.

I'll be really disappointed if Nintendo really is shifting emphasis to turn Smash Bros. into a more "serious" fighting game. It says a lot about Super Smash Bros. Ultimate that the biggest criticism that I have with it is that the intent of this game seems at odds compared with the intent of Smash Bros. entries in the past. This won't work nearly as well as a party game as some in the Smash Bros. series have in the past, but nonetheless this is a genuinely impressive fighting game with a nearly overwhelming amount of content that's going to make the more serious Smash Bros. fans very, very happy.

Super Smash Bros. Ultimate is equal parts greatness and lacking. The sheer wealth of content and great gameplay is commended but there are big holes in what could be a great game.
is fantastic or you is **** **** you mierda coñooooooooooooooooooooooooooooooooooooooo

The best smash bros game so far, combines everything for casual and competitive game. Without a doubt this is the best work of Sakurai.

Only thing that could use improvement (IMO) is the online, but with ver. 1.2 it seems they are already working on fixing it up. This gives me

Only thing that could use improvement (IMO) is the online, but with ver. 1.2 it seems they are already working on fixing it up. This gives me the feeling that they will do everything they can to support this game for quite some time.

Fantastic game all around, worth the $.

…

Expand

Best Smash Bros game in the series so far. Feels better then Smash for Wii U, plays better. Loving this game. The team did a great job. A must

Best Smash Bros game in the series so far. Feels better then Smash for Wii U, plays better. Loving this game. The team did a great job. A must have game. Join the Joker hype train! CHOO-CHOOO!

10/10

…

Expand

It´s AWESOME!!!! There are a ton of characters and a lot of scenarios. It´s the perfect gift for this xmas season

Great game with pretty bad online, still worth every cent. The amount of content is huge

Even with the new updates where "preferred" was even more "preferred", playing online is TERRIBLE. I NEVER get the matches I want, and the

Even with the new updates where "preferred" was even more "preferred", playing online is TERRIBLE. I NEVER get the matches I want, and the only reason I got this game was to play online with other people. It is basically impossible to get Team Battles. I honestly don't care if it's stock or time or whatever, I want to be on a team, and it's about 1 in 20 chance. I DO NOT want to play 1v1, and I always get in those matches! I know for a lot of people it's the opposite, but my favorite thing to play was For Glory Team Battles. Also, it's stupid you cannot switch characters after a fight. If you're playing someone I like and want to switch characters, too bad! You can't, and there's no good reason for it.

If they fixed online where you got to pick 1 v 1, Smash, or Team Battles, then I would give it 10/10. But there's no point if I can't play the game I want.

I at least want the option to pick the kind of battle I want, they should make it where 1 v 1, Team, or Smash, isn't preferred, it's REQUIRED. I don't care if I have to wait a few minutes, I want to play the match I want to play.

…

Expand