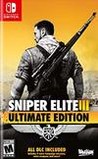 Summary:

This ULTIMATE EDITION contains the thrilling main game as well as 9 additional DLC packs, including the biggest environments yet in SAVE CHURCHILL Parts 1, 2 and 3 and 6 WEAPONS PACKS CAMOUFLAGE, SNIPER, EASTERN FRONT, HUNTER, AXIS and PATRIOT. Includes free updates to main game 6 new

This ULTIMATE EDITION contains the thrilling main game as well as 9 additional DLC packs, including the biggest environments yet in SAVE CHURCHILL Parts 1, 2 and 3 and 6 WEAPONS PACKS CAMOUFLAGE, SNIPER, EASTERN FRONT, HUNTER, AXIS and PATRIOT. Includes free updates to main game 6 new MULTIPLAYER MAPS, CAPTURE THE FLAG mode, TWILIGHT STRIKE Co-Op Mission, and SHOOTING RANGE.

…

Expand
Developer:

Rebellion

Genre(s):

Action

,

Shooter

,

Third-Person

,

Tactical

# of players:

Up to 12

Cheats:

On GameFAQs

Rating:

M
I was a big fan of Sniper Elite 3 on Xbox One, and I really like Sniper Elite 3 Ultimate Edition on Switch. While it doesn't have quite the same visual impact on Nintendo's hardware, it is still a good-looking game. And the actual adventure is as good as ever. It's a big step up from Sniper Elite V2 in terms of the narrative, map layout, and visuals. There are loads of content on offer here. If you rush through the main game you can finish in around 8 hours, but you'll more likely spend somewhere between 15 and 30 hours working your way through the campaign. The extra single player missions are really nice and show how good Rebellion is at crafting stories. Including the DLC is a nice touch and makes this an absolute bargain at an already budget price.

Thanks to a series that genuinely gets better with every iteration, Sniper Elite 3 remains one of the best snipers sims of this generation

With the Nintendo Switch lacking in war games and good third-person shooters, the Sniper Elite franchise has managed to fill the void with a well-placed bullet. The setting of Sniper Elite 3 Ultimate Edition is engaging, the campaign is varied, the gyro controls are remarkable, and the experience is entertaining. Sniper Elite 3 Ultimate Edition is an excellent Switch game and one that fans of World War 2 shooters will thoroughly enjoy.

Sniper Elite 3 Ultimate Edition is a nice port of Sniper Elite 3 with all the DLC included. The gameplay is tactical and requires patience, which may not be for everyone. Some tasks and situations can be frustrating, but you can still have a good time.

It's still not as good as Sniper Elite 4, but years of patches and DLC have improved it to the point where this is a viable alternative for Switch owners.

Sniper Elite 3 Ultimate Edition acquits itself nicely on Nintendo Switch. It looks good, it performs solidly, there's a couple of nice tweaks made for the Switch, and there's a wealth of great stealthy sniping content to be found within this compilation. Really it's a fairly standard feeling port, but alongside the V2 remaster, it's a good excuse to revisit the series and see how far it's evolved.

It certainly gets things right and its performance, whether on the Switch screen or on a television screen, is very good. On the other hand, the enemy's AI displays some incomprehensible mistakes and the visual discrepancies on the maps make the experience less enjoyable than it could be, at the same time that the action moments in the game's semi-open world structure fall below par. A decent effort, nevertheless, and a game that can provide for some good hours of fun.
Good game. Better than the previous entry. The open world setting is a breath of fresh air. Though not perfect but still good enough if you're

Good game. Better than the previous entry. The open world setting is a breath of fresh air. Though not perfect but still good enough if you're a fan of sniper elite.

…

Expand