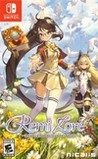 Summary:

RemiLore is a "rogue-lite" anime style adventure set in a colorful world where players hack-and-slash their enemies and cast devastating magic attacks using Lore's special powers.
Developer:

Pixellore

Genre(s):

Action

,

General

# of players:

No Online Multiplayer

Cheats:

On GameFAQs

Rating:

E10+
While it may not be the first of its kind or groundbreaking, RemiLore brings the potential of even more to come in the future and starts in a great place that makes it well worth giving a try as it's the perfect balance of challenge without being frustrating. RemiLore: Lost Girl in the Lands of Lore is a fun adventure with enjoyable dialogue and characters in addition to some great combat that makes it fun to replay again and again.

My only real gripe with the game is the lack of saving and respawning options. I am one of those players that tends to die a lot, so it can be a bit frustrating. Not to mention the mini-map is quite small, so it can be easy to miss something important before moving onto the next level. Other than that, RemiLore: Lost Girl in the Lands of Lore is an incredibly fun title. With beautiful graphics and fluid hack 'n' slash action, not to mention the back and forth hilarious banter from our heroes, this title is an easy pick whether you are playing it at home or on the go.

RemiLore lays a decent groundwork in terms of gameplay and design, but it never really goes beyond that. Combat is simple and promising, but the lack of depth makes it hard to stay engaged with it for very long. The visuals, likewise, lack any kind of unique punch or distinct art style to make them stand out as anything other than generic. The game is helped by its forgiving nature and the likable pair of protagonists you control, but a bit more care and effort could have helped make this game something truly special.

RemiLore: Lost Girl in the Lands of Lore is a pretty basic hack-and-slash that offers some interesting levelling up options, but the lack of depth in both the story and combat leaves it feeling a little empty. Despite the great story premise, and a fun choice of character with Lore, the pages just feel a little empty to this book.

RemiLore just doesn't have enough variety to stay interesting for more than a few minutes. Though the characters are mildly entertaining with an impressive amount of dialogue to flesh out their interactions, there's just too much you need to put up with to get to the good parts of the game. Rogue-lite and Action RPG are two crowded genres, and RemiLore unfortunately decided to tackle them both without covering even the basics of what makes either interesting in the first place.

RemiLore is a simple effort and there's nothing wrong with that per se - the game features a good looking visual environment and some interesting ideas, the problem is putting them into practice without forcing the player into an experience that feels dull and repetitive...and that's exactly what ends up happening, as RemiLore does not have the assets to deliver an involving experience.

The quest in RemiLore: Lost Girl in the Lands of Lore is inconsequential, and the only reason why anyone would play this is to have a cute hack'n slash with the utter bare minimum of rogue elements. Bringing a friend along will help keep things interesting, but there is just not enough substance to keep most hooked. It is too easy, and one has to play very carelessly in order to feel the rush of walking that razor's edge that comes with the better rogue-likes.
This is a pretty straight-forward rogue-lite hack-n-slash.

Pros: -Tight Controls -Satisfying Gameplay -Kid Friendly, from what I'veThis is a pretty straight-forward rogue-lite hack-n-slash.

Pros:
-Tight Controls
-Satisfying Gameplay
-Kid Friendly, from what I've seen. No blood or gore.
-Doesn't stray into pervy, like many anime-style games.
-Casual difficulty, even death is forgiving, as you loose progress, but not upgrades or weapons.
-Visually pleasing, lots of bright colors
-Lots of amusing, unusual weapons to pick up

Cons:
-Short
-Could stand to have some extras. More to do, customization options, etc.
-Price is a high. Hopefully there will be some free updates.

I know some people might view the casual difficulty as a con, but for me it's a pro. I don't really want every game to be hard. Sometimes I just want to relax and beat some things up, and this is a good game for it. I also didn't list repetitive as a con, as many people did. In Diablo, I hit buttons and kill stuff. In Binding of Isaac, I hit buttons and kill stuff. In Enter the Gungeon, I hit buttons and kill stuff. Seems silly to call a game like this repetitive. Of course it is. It's just a matter of whether you like hitting buttons and killing stuff in that particular game, and I like it in RemiLore.

…

Expand