Publisher:

Nintendo

Release Date:

Jan 11, 2019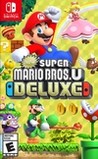 Summary:

Join Mario, Luigi, and pals for single-player or multiplayer fun anytime, anywhere. Take on two family-friendly, side-scrolling adventures with up to three friends* as you try to save the Mushroom Kingdom. Includes the New Super Mario Bros. U and harder, faster New Super Luigi U games—both

Join Mario, Luigi, and pals for single-player or multiplayer fun anytime, anywhere. Take on two family-friendly, side-scrolling adventures with up to three friends* as you try to save the Mushroom Kingdom. Includes the New Super Mario Bros. U and harder, faster New Super Luigi U games—both of which include Nabbit and Toadette as playable characters. Two games in one. Simple, straightforward controls, new playable characters optimized for younger and less-experienced players, and a wealth of bonus content—like a Hints gallery and helpful reference videos**—make this a perfect choice for anyone looking to introduce their family to the wonderful world of Mario. All a player needs is one Joy-Con controller, so two people can team up right out of the box! Tackle 164 platforming courses in the two main game modes and enjoy extra replayability with three additional game modes in which you can also play as a Mii character: Challenges, Boost Rush, and Coin Battle.

…

Expand
Developer:

Nintendo

Genre(s):

Action

,

Platformer

,

2D

# of players:

No Online Multiplayer

Cheats:

On GameFAQs

Rating:

E
Please enter your birth date to watch this video:
You are not allowed to view this material at this time.
New Super Mario Bros. U Deluxe - Official Announcement Trailer | Nintendo Switch
New Super Mario Bros. U Deluxe is a perfect addition to the Switch's ever-=growing library of excellent games. A huge amount of content, coupled with perfectly executed tight controls makes this entry a must play for any and all fans of the genre.

One of the best Wii U games gets a wonderful Switch remaster that brings to life its multiplayer mayhem better than ever before.

New Super Mario Bros. U on the switch is again one of the best 2D Mario games. For veterans of the original, however, there are too few innovations.

The package is totally fine, and outside of Peachette leading to one of the most disturbing memes in recent Nintendo memory, the new character's addition is welcome. Aside from that, the only benefits of this release is that it can be truly played portably and it's on a console a lot more people own.

Despite dashing the dreams of Bowsette fans everywhere, this is a great game made more palatable for gamers of all skill levels, and although sometimes it threatens to be too easy by grafting in characters without really thinking about it, there is a blockbuster amount of content here that is fantastic fun solo, only to be made more exciting by the four-player multiplayer.

Thanks to some sweet, though slightly too light additions - Peachette in particular - New Super Mario Bros. U Deluxe is really for everyone now.

The further you delve into New Super Mario Bros U, the more rewarding it becomes. Its final worlds hold some of its best levels, and there are plenty of fun secrets to enliven the second or third attempt at a level. But it's hard to summon the motivation to devote that much time to it. It's typically well-made and enjoyable, but next to the best of the Mario series, it's unmemorable.
It's a wonderful option if you didn't play this game before. Great platformer, lots of secrets, different environments, great for multiplayer

It's a wonderful option if you didn't play this game before. Great platformer, lots of secrets, different environments, great for multiplayer because it's really fun.

…

Expand

I speedrunned this on my YouTube channel. I enjoyed every single minute of it. I'm so glad that they kept everything from the original. The

I speedrunned this on my YouTube channel. I enjoyed every single minute of it. I'm so glad that they kept everything from the original. The controls are amazing and definitely the best 2D controls of the New Series. I'm glad you can finally start the game with Nabbit, which makes it much easier to speedrun. Best 2D game of all time, for me that is. Thank you, Nintendo.

…

Expand

While it may not quite have as much as it needs to truly qualify as "Deluxe", that doesn't change the fact this is easily the best NSMB to

While it may not quite have as much as it needs to truly qualify as "Deluxe", that doesn't change the fact this is easily the best NSMB to date, as the beefy amount of content, great level design, charming music, awesome boss battles, and overall package makes this one of the best 2D platformers Nintendo has ever made in recent memory, which makes this an absolute no-brainer for Switch owners who were not able to play the original, as this is the same great game that has everything included, and all of this on the go is just fantastic.

…

Expand

While 60$ might turn you away, the game is a blast to play. The controls are tight, the level design is great, and the inclusion of Super

While 60$ might turn you away, the game is a blast to play. The controls are tight, the level design is great, and the inclusion of Super Luigi U is a nice bonus. I say it easily worth it's 60$.

…

Expand

Graphics are inconsistent, sometimes it looks good, sometimes rather ugly. Like a flash game like some people have mentioned. Multiplayer with

Graphics are inconsistent, sometimes it looks good, sometimes rather ugly. Like a flash game like some people have mentioned. Multiplayer with over 2 people is very unplayable. There is a small sweet spot in the middle of the screen where you want to be, but when everyone is there you just bump each other to death. It's just not designed for more than 1-2 player.

The game save system I don't comprehend. The need to limit saves to just after boss levels makes no sense at all. Adds nothing except the opportunity to lose progress. I thought this kind of thinking went extinct decades ago.

Overall a rather disappointing Mario game. $60 for a 6 year old game is rather steep.

…

Expand

I loved the original on the Wii U and this is pretty much the same, except for one new character and the "Luigi" DLC already being included.

I loved the original on the Wii U and this is pretty much the same, except for one new character and the "Luigi" DLC already being included. Seeing Nintendo charge full price for a game released in 2012 is scummy though, especially when you can still get the Wii U version for 1/3 of the price.

There are no new levels added and the graphics aren't exactly impressive enough for people to upgrade to 1080p (The original was 720p). The only 3D models are the characters themselves and a few objects, the rest is in 2D. If you want Wii U ports that actually add new stuff to the games, get "Pokken Tournament DX", "Captain Toad" or "Mario Kart Deluxe". This and the Donkey Kong game are just lazy ports made to get a quick buck.

And no, just because a lot of people never had a Wii U doesn't excuse it for being "new to them". It's still an old game and should be sold for at least half the price.

…

Expand

Another awful Nintendo game! Seems to be a trend for the past 15 years for Nintendone