Publisher:

Gun Media

Release Date:

Aug 13, 2019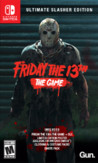 Summary:

Play as Jason Voorhees. For the first time on Switch, you will have the opportunity to play as Jason Voorhees, the most famous killer in horror. Stalk your prey, ambush them whenever you see fit and strike fear in the hearts of so many hapless victims as you become the legend himself! Friday

Play as Jason Voorhees. For the first time on Switch, you will have the opportunity to play as Jason Voorhees, the most famous killer in horror. Stalk your prey, ambush them whenever you see fit and strike fear in the hearts of so many hapless victims as you become the legend himself! Friday the 13th: The Game will include a variety of kills, new and familiar, that will help you set the tone for the Jason Voorhees that you want to be. You'll even get to unlock various Jason incarnations from the movies. Jason will be equipped with a terrifying array of abilities, giving you the control of a hunter at the height of his game. These are his woods, and he knows them all too well. Jason will not only feed off the fear of his victims, but will become stronger as the night progresses. The darker the night, the more terrifying Jason becomes.

…

Expand
Developer:

Black Tower Studios, Nighthawk Interactive

Genre(s):

Action Adventure

,

Survival

# of players:

Up to 8

Cheats:

On GameFAQs

Rating:

M
With the recent discourse about violence in video games, the launch of Friday the 13th: The Game comes at an inopportune time. It certainly earns its mature rating, with a level of gore and violence that would make most people sick to their stomach, but for fans of the horror genre, this is their bread and butter. The experience of being Jason Vorhees is captured perfectly, and all of the feelings of panic and dread are still felt even after hours of playing. If you enjoy being scared out of your pants on a consistent basis, be prepared to scream.

Friday the 13th: The Game - Ultimate Slasher Edition serves up a bloody feast that's a treat for schlock horror fans who want an authentic Jason experience while taking that tricky asymmetrical multiplayer template and making it truly enjoyable. With a ton of extra skins, weapons, signature kills and more this complete edition couldn't be any more stacked with DLC. Sure, it's still a little janky, but with servers that are seemingly holding and two years of refinements straight out of the box, this multiplayer gem still knows how to make an entrance on Switch. Mrs Voorhees will be pleased.

Friday the 13th: Ultimate Slasher Edition is not perfect by any means, but it is a perfect representation of the movie series as a whole. By providing players thrills and tense moments any Nintendo Switch owning horror fan should enjoy it, even with some of its deficiencies. The additional DLC extras, offline mode and various goodies all add to the package, and developer Black Tower Studios's effort is one that would make even Mrs. Voorhees proud.

When it works, Friday the 13th is a truly exciting bout of cat-and-mouse gameplay that offers plenty of thrills and tense moments, but technical issues, clunkiness and a laborious levelling grind can add up to frustration.

Friday the 13th nails the feeling of the franchise it is based on. It's obviously meant to be played online, with intense matches and a survival horror touch.

The original version had the potential to be a classic multiplayer horror game, but this updated edition still feels as hokey and unrefined as the movies it's based on.

If you're a die-hard fan of the franchise, you might get a few nostalgic kicks out of Friday the 13th: The Game. But if you're simply looking for a horror-themed multiplayer, this doesn't hold a candle to Dead by Daylight, which itself is coming to Switch next month. Do yourself a favour, and pick that up instead.
I don't generally bother with reviews but thought it was necessary to warn switch owners about this game . I'm also not sure if this only

I don't generally bother with reviews but thought it was necessary to warn switch owners about this game . I'm also not sure if this only applies to European servers or whether others are having the same problems. So firstly , When you can get a game to play from start to finish ( Not very often at all ) its enjoyable to play, Yes the graphics wont win any awards and its a little clunky but it has a great tense atmosphere and feels pretty good if you get the parts and escape by car or boat . There is a fair amount of grinding which isn't so bad if you like that kind of thing . Along with a decent selection of maps atmospheric music etc means it has the potential to be really enjoyable . The bad and its really bad , Upwards of 5 - 10 mins mins to find / enter a match (This isnt because of a lack of people trying to play ) , constant disconnects when playing ( all your xp lost ) and glitches in game . I have in a 24 hours period with hours of trying to join games successfully finished around 20 games . This is the first game i where i have contacted nintendo for a refund as i'm not willing to risk £35.99 on a game that may work one day . pretty disgusting to release a game in this condition. Before anyone considers it may be my connection every other game i play on switch or PC is fine . The score of 3 would be 7 or 8 if the game wasn't broken.

…

Expand