Publisher:

Nintendo

Release Date:

Jan 3, 2020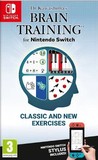 Summary:

Get ready to challenge your brain in a variety of ways in Dr Kawashima's Brain Training for Nintendo Switch. Enjoy new exercises, some of them making use of the right Joy-Con's IR Motion Camera*, or tap and train with classic exercises from past Brain Training games that you can play using a

Get ready to challenge your brain in a variety of ways in Dr Kawashima's Brain Training for Nintendo Switch. Enjoy new exercises, some of them making use of the right Joy-Con's IR Motion Camera*, or tap and train with classic exercises from past Brain Training games that you can play using a stylus (included with the packaged version from retail stores) or your finger. It's in your hands.

…

Expand
Developer:

Nintendo

Genre(s):

Miscellaneous

,

Edutainment

Cheats:

On GameFAQs
An effective update of the proven formula that we enjoyed many years ago. Anyone can enjoy it, although we expected a little more variety.

Quick, fun, entertaining and now multiplayer, Dr Kawashima's Brain Training is a good entry in the franchise. The cons are some really new elements and not being full compatible with Nintendo Switch Lite.

Dr Kawashima's Brain Training for Nintendo Switch certainly isn't as good as its predecessors. With its letter and number recognition problems and the Switch's controllers not detecting arm movements accurately, there are some minigames that players will definitely be put off by. But its unique new additions that utilise the Switch's IR camera are a real joy to play – and more than anything, even if it's not perfect, it's just lovely to have Dr. Kawashima on the Switch at last.

This game is exactly what you'd expect: an hommage to the Nintendo DS classic with a few new features. Most of it is still great, but the infrared is technically lacking.

Everything about this game is very familiar. It is not something very exciting. We do appreciate the new training and the original way of adding the infrared of the Joy-Cons to the mix.

Regardless of what it may or may not do to your brain age, this is a disappointingly low effort remaster with serious technical issues and a lack of interesting content.
The game is not bad, I bought it to have something to play with my girlfriend and she loves it. For the 30 minutes we play per day I would say

The game is not bad, I bought it to have something to play with my girlfriend and she loves it. For the 30 minutes we play per day I would say it is entertaining.

…

Expand