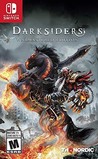 Summary:

Deceived by the forces of evil into prematurely bringing about the end of the world, War the first Horseman of the Apocalypse stands accused of breaking the sacred law by inciting a war between Heaven and Hell. In the slaughter that ensued, the demonic forces defeated the heavenly hosts

Deceived by the forces of evil into prematurely bringing about the end of the world, War the first Horseman of the Apocalypse stands accused of breaking the sacred law by inciting a war between Heaven and Hell. In the slaughter that ensued, the demonic forces defeated the heavenly hosts and laid claim to the Earth.

…

Expand
Developer:

Nordic Games Publishing

Genre(s):

Action Adventure

,

Open-World

# of players:

No Online Multiplayer

Cheats:

On GameFAQs

Rating:

M
I have not replayed through the Warmastered Edition on Switch as I write this, but I have played it some — enough that I feel ready to report that the game is still great but that this release is quite simply a direct port to the Switch with no new features or changes that I can discern.

If you're craving classic 3D Zelda, Darksiders is the game for you. Despite originally releasing almost 10 years ago, it has held up remarkably well. Even playing it my third time through, I still found it absolutely delightful. While its original weak points remain present in this remaster, so to do its strengths shine through. The customizable performance options, coupled with the Switch's portability make this my favorite way to play an excellent game. Bring on Darksiders II and Darksiders III.

Although it adds nothing unique and makes some visual concessions to fit the platform, Darksiders Warmastered Edition is a great way to revisit what is now considered a minor classic of the action-RPG genre. With fluid combat and a dramatic, if skeletal story, Darksiders has retained most of the fun-factor that made the game stand out way back in 2010. Playing the game on a big screen in 4K might be optimal, but Darksiders on the Switch is a decent alternative.

Darksiders: Warmastered Edition is now the best of the series thus far, plus an added bonus of beginning the storyline from the very beginning (to subsequently tackle Darksiders II and III, if desired, and on other platforms). Conversely – and if you've played later versions and not the originals, give Darksiders: Warmastered Edition a go. You'll appreciate the forward steps the series took by stepping backward.

Despite some graphical assets from the past, Darksiders's gameplay structure manages to face nowadays standard with some clever game design and a deep, engaging combat system. Switch adds its portable mode to the deal.

9 years after its initial release, Darksiders is a still a good pick on Nintendo Switch, that can entertain you with its good ideas and very pleasant artistic direction.

Darksiders Warmastered Edition comes to Nintendo Switch without playable or graphic improvements. Even so, it's a great Hack and Slash, with an interesting story, a good sound section and great gameplay.
A first-time player here. I missed this one back in 2010 and I was hyped to get it on the Switch. As advised in one of the reviews I switched

A first-time player here. I missed this one back in 2010 and I was hyped to get it on the Switch. As advised in one of the reviews I switched to high-performance (handheld mode) and I immediately experienced an improvement in gameplay and experience. I think it's a pretty great port at a great price point. I would have paid full price for this, honestly.

…

Expand

Absolutely brilliant game. And just to be clear I DO KNOW this game in original form is rather old now. But having Switch we do have to

Absolutely brilliant game. And just to be clear I DO KNOW this game in original form is rather old now. But having Switch we do have to remember about it's downsides from which low performance (in compare to XO and PS4) is the biggest one. The game itself is one of best of ports on Switch I played so far, well... excluding Skyrim, hard to beat that one even though it's buggggged in so many ways on every platform I played it. And back to Darksiders - great graphics with no bugs, 60FPS with still great graphics, smooth performance, PRICE, ridiculously short loadings (in compare to Civilization 6 for example which in switch version I absolutely hate). I do recommend Darksiders on Switch to everyone. I really do. And the price of $30 is really great, even for a port (in compare look price for D3, Skyrim or C6).

…

Expand

This is the way Nintendo Switch ports should be done.

First of all, before playing this game for the first time, make sure you go into theThis is the way Nintendo Switch ports should be done.

First of all, before playing this game for the first time, make sure you go into the 'Options' menu, change the 'Performance Mode' to 'High Performance' and turn 'Vignette' and 'Chroma FX' OFF. Trust me, you will be glad you did.

While the original game came out just over 9 years ago, the gameplay still holds up surprisingly well, and the graphics on display are a testament to how good a game can look on the Switch when the developers take the time to wring every drop of power they can out of the system, regardless if you're playing on a Television or in Handheld mode. While the music is nothing new or groundbreaking, it is fully appropriate and epic when the story beats and boss battles call for it. Also, hearing Mark Hamill's voice in this game is always a delight.

Unfortunately, the game does have some drawbacks such as combat feeling frustrating when going up against certain enemies that don't telegraph their attacks well, and the grind of collecting souls (currency, health, and rage) can be a bit monotonous and can feel like it was designed to pad out the game from time to time, but there have been no game-breaking bugs or crashing issues.

Overall, this game feels like a high-quality offering from THQ Nordic, and while there are certainly similar games on the Switch, there are few that are as well-done as Darksiders: Warmastered Edition; and being able to play it wherever you want is just the icing on the cake.

…

Expand