| Riders Republic | Marvel's Guardians of the Galaxy | Call of Duty: Vanguard |
| --- | --- | --- |
| | | |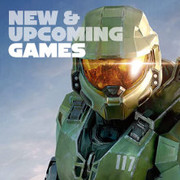 Find release dates, trailers, and scores for major upcoming and recent videogame releases for all platforms, updated weekly.
1.

Deathloop

If at first you don't succeed Die, Die Again. From the team at Arkane Lyon comes an innovative take on first-person action. "DEATHLOOP" transports players to the lawless island of Blackreef in an eternal struggle between two extraordinary assassins. Explore stunning environments and meticulously designed levels in an immersive gameplay experience that lets you approach every situation any way you like. Hunt down targets all over the island in an effort to put an end to the cycle once and for all, and remember, if at first you don't succeed die, die again.

2.

Bonfire Peaks

Move onwards, move upwards, and leave nothing behind. Bonfire Peaks is a puzzle game about closure, by Corey Martin and published as well as co-produced by Draknek, creator of A Monster's Expedition and Cosmic Express. Navigate expertly designed puzzles in a breathtakingly lovely voxel-based world. Filler content has been burned away to create a perfectly fine-tuned experience, filled with richly rewarding challenges and surprising new mechanics that'll keep sparking your interest right through to the end.

3.

Tales of Arise

Challenge the Fate That Binds You. On the planet Dahna, reverence has always been given to Rena, the planet in the sky, as a land of the righteous and divine. Stories handed down for generations became truth and masked reality for the people of Dahna. For 300 years, Rena has ruled over Dahna, pillaging the planet of its resources and stripping people of their dignity and freedom. Our tale begins with two people, born on different worlds, each looking to change their fate and create a new future. Featuring a new cast of characters, updated combat, and classic Tales of gameplay mechanics, experience the next chapter in the world-famous Tale of series, Tales of Arise. The Next Chapter Experience the next chapter in the Tales of series, brought to life in stunning HD powered by Unreal Engine 4 Dynamic Action Dynamic Action RPG featuring an updated battle system that retains classic Tales of gameplay A New Tale Awaits Rich story featuring a vibrant world and new cast of characters Stunning Visuals High quality animation created by Ufotable

4.

Roki

Every dark fairytale has its monster. Rediscover magic and chart your adventure through this forgotten northern world of mystery and monsters. Find your courage, discover hidden paths, solve ancient puzzles and travel deeper through the icy land to learn the truth. Join Tove on a fantastical journey to save her family; one that takes her deep into a hidden, long forgotten world of folklore, filled with strange locations and even stranger creatures. Explore the ancient wilderness, solve its mysteries, and save your family in this modern adventure game for all.

5.

Death Stranding: Director's Cut

From legendary game creator Hideo Kojima comes a genre-defying experience, now expanded and remastered for the PlayStation 5 console in this definitive Director's Cut. In the future, a mysterious event known as the Death Stranding has opened a doorway between the living and the dead, leading to grotesque creatures from the afterlife roaming the fallen world marred by a desolate society. Take on the trials of Sam Bridges with advanced combat, more character actions and a competitive ranking system for special player challenges.* Make use of additional weapons and vehicles, take on new enemy types and explore new locations such as the Firing Range and Racetrack, featuring extra missions and minigames. Experience an extended storyline through new missions in an expanded area.

6.

Lost Judgment

SEIZE THE TRUTH - December 2021, Tokyo district court. Akihiro Ehara stands accused of groping a woman on a crowded train. A bystander's video footage of his attempt to flee the scene and subsequent apprehension is all over the news, and public outcry demands a maximum sentence. "Three days ago, a dead body was found in an abandoned building in Yokohama. Have you identified it yet?" he proclaims as confusion cuts through the court room. His defense lawyer, Saori Shirosaki, has no doubt that crucial details of the situation have been overlooked, as Ehara was not even tried for the murder. She contacts detective Takayuki Yagami to investigate this further. How could Ehara have committed two crimes at once? Was the sexual battery just a cover up? Has Ehara gamed the entire justice system? As victims surface and Yagami digs farther into the truth, he is faced with a question: Defend the law, or enact justice? From just a single stumble, one can become a monster… BRINGING JUSTICE AT THE EDGE OF THE LAW Put Yagami's distinct martial arts forms to the test in order get to the bottom of the case. Harness the Crane, Tiger, and new Snake stance, a graceful style that can deflect and return an opponent's strikes, using their energy against them. EVERYONE'S GOT A STORY Employ Yagami's arsenal of detective tricks with new gadgets, stealthily tracking suspects, and crafty methods of infiltration. Leave no stone unturned in pursuit of the truth as you take on cases in both Tokyo and Yokohama.

7.

Diablo II: Resurrected

Diablo® II: Resurrected™ is a remastered version of the quintessential action RPG Diablo® II. Pursue the mysterious Dark Wanderer and fight the denizens of hell as you uncover the fate of the Prime Evils Diablo, Mephisto, and Baal. Features: Remastered graphics—monsters, heroes, items, spells, all resurrected. An epic story told through five distinct acts. Classic gameplay—the same Diablo II you know and love, preserved. Updated Battle.net support. Planned support for cross-progression—take your progress wherever you play. Diablo II: Resurrected includes all content from both Diablo II and its epic expansion Diablo II: Lord of Destruction®. Battle your way through icy caverns, horrific tombs filled with undead abominations, and frozen wastelands to the frigid summit of Mount Arreat and stop Baal, the Lord of Destruction. Raise hell with two Lord of Destruction playable classes—the cunning Assassin, master of traps and shadow disciplines, and the savage Druid, a bold shapeshifter and summoner who commands primal elemental magic.

8.

Life is Strange: True Colors

A bold new era of the award-winning Life is Strange begins, with an all-new playable lead character and a thrilling mystery to solve! Alex Chen has long suppressed her 'curse': the supernatural ability to experience, absorb and manipulate the strong emotions of others, which she sees as blazing, colored auras. When her brother dies in a so-called accident, Alex must embrace her volatile power to find the truth and uncover the dark secrets buried by a small town.

9.

Tails of Iron

Set in a grim land plagued by war, Tails of Iron is a hand-drawn RPG Adventure with punishingly brutal combat. As Redgi, heir to the Rat Throne, you must restore your broken Kingdom by banishing the merciless Frog Clan and their ferocious leader, Greenwart. As you explore the deceivingly charming world, you'll encounter a cast of unique companions, ready to aid you in your adventure. And you'll need all the help you can get, whether that's new meal recipes, blueprints to forge deadly weapons and armour, or even a land-chugging, armour-plated mole mobile! Overcome your fears. Rescue your brothers. Restore Your Kingdom. Your tail has begun. Master Brutal Combat: From frog zombies to gargantuan grubs - and everything in-between - the Kingdom is awash with danger. To overcome each perilous encounter, you'll need to study your opponent's attacks and react accordingly! Thankfully, there's a range of deadly abilities at your disposal, including parry bashes and fatal executions, not to mention ranged attacks with your nifty bow and arrow. Explore a Treacherous Kingdom: Fully accompanied by the deep, raspy narrations of Doug Cockle (voice of Geralt of Rivia from The Witcher), prepare to embark on an epic adventure across the mediaeval-fantasy Rat Kingdom. Complete side quests and faction hunts for some additional gold-on-the-side, or join forces with a sharp-eyed companion to help even the playing field. Customise your Attack: Adapt Redgi's combat style to the task at hand. Heavy armour may provide better protection but can you really afford to slow down your dodge-roll? And then there's the question of weapon; axes pack a punch, while spears are quick and nimble. Perhaps you'd prefer the all-round performance of a trusty broadsword?

10.

Marvel's Guardians of the Galaxy

Fire up Star-Lord's jet boots for a wild ride across the cosmos in this third-person action-adventure game, a fresh take on Marvel's Guardians of the Galaxy. With the unpredictable Guardians at your side, blast your way from one explosive situation to another, with original and iconic Marvel characters caught in a struggle for the fate of the universe. You got this. Probably.