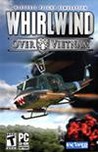 Summary:

Delve into the darkness and challenges of the Vietnam War in the epic title Whirlwind Over Vietnam. As a helicopter pilot your missions will take you through the toughest and most dangerous campaigns of the Ia Drang Valley, 1965. The War in Vietnam has become one of the most significant

Delve into the darkness and challenges of the Vietnam War in the epic title Whirlwind Over Vietnam. As a helicopter pilot your missions will take you through the toughest and most dangerous campaigns of the Ia Drang Valley, 1965. The War in Vietnam has become one of the most significant political events of the sixties. After World War II military technologies started developing quickly. One of the most noticeable changes was the all-round usage of military helicopters. Even now, after 40 years, the image of a Huey helicopter is one of the most typical associations with the War in Vietnam and almost every movie dedicated to this topic features these machines. Whirlwind Over Vietnam is a helicopter sim that depicts the most famous episodes of the war in a movie-style way. The main events of the game are well-known to the audience due to famous books and movies dedicated to the War such as We Were Soldiers, Apocalypse Now, Hamburger Hill and many others. The game features all the major weapons and military equipment of that period, both air and land - from firearms, grenade launchers and artillery to planes and vehicles on either side of the conflict. And of course, the main focus is on helicopters. The game contains all major American helicopters with modifications for both US Army and Marine Corps. The game is flexible and has a lot of settings which allow varied flight behavior for the helicopter from realistic to arcade. [Evolved Games]

…

Expand
Developer:

G5 Software

Genre(s):

Simulation

,

Flight

,

Helicopter

,

Helicopter

,

Combat

,

Civilian

# of players:

1 Player

Cheats:

On GameFAQs

Rating:

T
It gives you loads of controls and option, drops you into some amazing situations, but then makes some things too easy and some things too hard - balance is a real issue, especially later in the game.

As combat flight sims go, this one is different enough for a test flight for those interested.

The historical accuracy is a nice touch, but unfortunately the game will likely turn off the fans that aims to attract (historical sim buffs) with unbalanced controls and weak missions and a tepid presentation.

A somewhat promising demo of a game that will probably never see the light of day. [June 2007]

Whirlwind over Vietnam offers a gameplay experience that is neither innovative nor executed well.

The flight-sim world craves a good Vietnam-era helicopter sim, but Whirlwind Over Vietnam's anemic content would've been more suitable for a good demo than a full game.

The novelty of the Vietnam War setting is just about all that Whirlwind Over Vietnam has going for it.
Wouldn't load on any of my computers. Makes a lousy coaster too.